Product Summary
The TLV320AIC1106PW is a PCM codec designed to perform transmit encoding analog-to-digital (A/D) conversion, receive decoding digital-to-analog (D/A) conversion, and transmit and receive filtering for voice-band communications systems. The TLV320AIC1106PW device operates in either the 13-bit linear or 8-bit companded (μ-law) mode. The PCM codec generates its own internal clocks from a 2.048-MHz master clock input. The applications of the TLV320AIC1106PW include Digital Handset, Digital Headset, Cordless Phones, Digital PABX, Digital Voice Recording.
Parametrics
TLV320AIC1106PW absolute maximum ratings: (1)Supply voltage range, DVDD, EARVDD: -0.5 V to 3.6 V; (2)Output voltage range, VO: -0.5 V to 3.6 V; (3)Input voltage range, VI: -0.5 V to 3.6 V; (4)Continuous total power dissipation: See Dissipation Rating Table; (5)Operating free air temperature range, TA: -40℃ to 85℃; (6)Storage temperature range, Tstg: -65℃ to 150℃; (7)Lead temperature 1,6 mm from case for 10 seconds: 260℃.
Features
TLV320AIC1106PW features: (1)Designed for Analog and Digital Wireless Handsets, Voice-Enabled Terminals, and Telecommunications Applications; (2)2.7-V to 3.3-V Operation; (3)Selectable 13-Bit Linear or 8-Bit μ-Law Companded Conversion; (4)Differential Microphone Input With External Gain Setting; (5)Differential Earphone Output Capable of Driving a 32-Ω to 8-Ω Load; (6)Programmable Volume Control in Linear Mode; (7)Microphone (MIC) and Earphone (EAR) Mute Functions; (8)Typical Power Dissipation of 0.03 mW in Power-Down Mode; (9)2.048-MHz Master Clock Rate; (10)300-Hz to 3.4-kHz Passband; (11)Low Profile 20-Terminal TSSOP Packaging.
Diagrams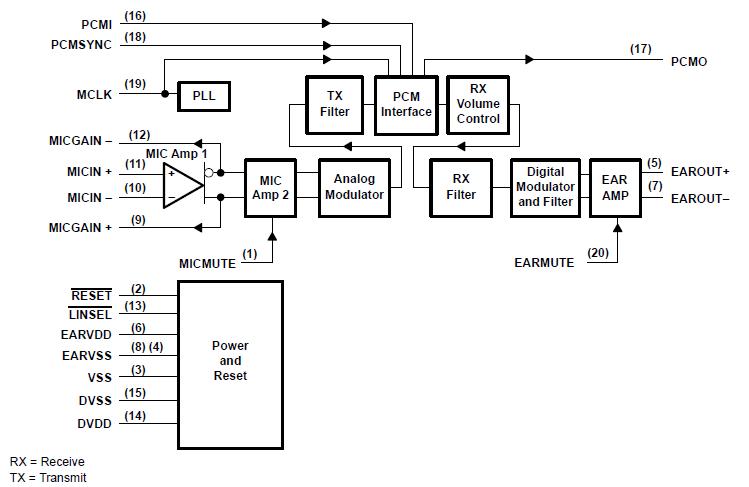 Image
Part No
Mfg
Description
Pricing
(USD)
Quantity

TLV320AIC1106PW

Texas Instruments

Audio CODECs PCM w/Microphone Amp & Speaker Driver

Data Sheet



| | |
| --- | --- |
| 0-1: | $4.28 |
| 1-25: | $3.61 |
| 25-100: | $3.32 |
| 100-250: | $3.02 |


TLV320AIC1106PWG4

Texas Instruments

Audio CODECs 16-Bit Univ Bus Drv With 3-State Outputs

Data Sheet



| | |
| --- | --- |
| 0-1: | $3.90 |
| 1-25: | $3.12 |
| 25-100: | $2.71 |
| 100-250: | $2.53 |


TLV320AIC1106PWRG4

Texas Instruments

Audio CODECs PCM w/Microphone Amp & Speaker Driver

Data Sheet



| | |
| --- | --- |
| 0-1605: | $2.02 |
| 1605-2000: | $2.00 |


TLV320AIC1106PWR

Texas Instruments

Audio CODECs PCM w/Microphone Amp & Speaker Driver

Data Sheet



| | |
| --- | --- |
| 0-1605: | $2.02 |
| 1605-2000: | $2.00 |