Product Summary
The THS4520RGTT is a wideband, fully differential operational amplifier designed for 5-V data operational amplifier designed for 5-V data 2 nV/√ ̄Hz, and low harmonic distortion of -115 dBc HD2 and –123 dBc HD3 at 100 kHz with 8 VPP, and 1kΩ load. The slew rate is 570 V/ms, and with a settling time of 7 ns to 0.1% (2-V step), the THS4520RGTT is ideal for data acquisition applications. It is designed for unity gain stability. The applications of the THS4520RGTT include 5-V and 3.3-V Data Acquisition Systems, High Linearity ADC Amplifier, High Linearity ADC Amplifier, Test and Measurement, Voice Processing Systems.
Parametrics
THS4520RGTT absolute maximum ratings: (1)VS– to VS+ Supply voltage: 6 V; (2)VI Input voltage: ±VS; (3)VID Differential input voltage: 4 V; (4)IO Output current(1): 200mA; (5)Continuous power dissipation: See Dissipation Rating Table; (6)Maximum junction temperature: 150℃; (7)TJ Maximum junction temperature, continuous operation, long term reliability: 125℃; (8)TA Operating free-air temperature range: –40℃ to 85℃; (9)Tstg Storage temperature range: –65℃ to 150℃; (10)Lead temperature 1,6 mm (1/16 inch) from case for 10 seconds: 300℃.
Features
THS4520RGTT features: (1)Fully Differential Architecture With Rail-to-Rail Outputs; (2)Centered Input Common-mode Range; (3)Minimum Gain of 1 V/V (0 dB); (4)Bandwidth: 620 MHz; (5)Slew Rate: 570 V/μs; (6)0.1% Settling Time: 7 ns; (7)Input Voltage Noise: 2 nV/√ ̄Hz (f>10 kHz); (8)Output Common-Mode Control; (9)Power-Down Capability: 15μA.
Diagrams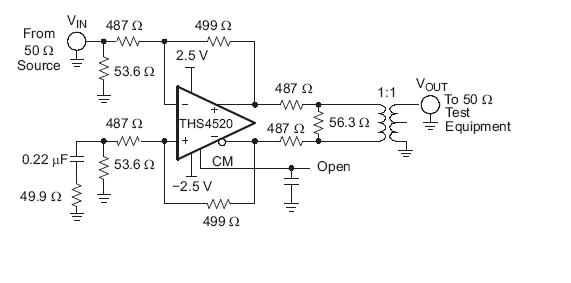 Image
Part No
Mfg
Description
Pricing
(USD)
Quantity

THS4520RGTT

Texas Instruments

Differential Amplifiers Rail-to-Rail Output Wideband Full Diff

Data Sheet



| | |
| --- | --- |
| 0-1: | $3.00 |
| 1-25: | $2.45 |
| 25-100: | $2.20 |
| 100-250: | $2.10 |


THS4520RGTTG4

Texas Instruments

Differential Amplifiers R-to-R Output Wideband Fully Diff

Data Sheet



| | |
| --- | --- |
| 0-1: | $3.42 |
| 1-25: | $2.79 |
| 25-100: | $2.50 |
| 100-250: | $2.10 |