Product Summary
The SN65LVDS302ZQER is a programmable 27-bit serial-to-parallel receiver. It de-serializes FlatLink 3G compliant serial input data to 27 parallel data outputs. The SN65LVDS302ZQER contains one shift register to load 30 bits from 1, 2 or 3 serial inputs and latches the 24 pixel bits and 3 control bits out to the parallel CMOS outputs after checking the parity bit. If the parity check confirms correct parity, the Channel Parity Error (CPE) output remains low. If a parity error is detected, the CPE output generates a high pulse while the data output bus disregards the newly-received pixel. Instead, the last data word is held on the output bus for another clock cycle. The applications of the SN65LVDS302ZQER include Small Low-Emission Interface between Graphics Controller and LCD Display, Mobile Phones & Smart Phones, Portable Multimedia players.
Parametrics
SN65LVDS302ZQER absolute maximum ratings: (1)Supply voltage range, VDD, VDDPLLA, VDDPLLD, VDDLVDS: –0.3 to 2.175V; (2)Voltage range at any input When VDDx >0V: –0.5 to 2.175V; (3)or output terminal When VDDx≤0 V: –0.5 to VDD + 2.175V; (4)Human Body Model(3) (all Pins): ±4kV; (5)Electrostatic discharge Charged-Device Mode(4) (all Pins): ±1500V; (6)Machine Model(5) (all pins): ±200V; (7)Continuous power dissipation: See Dissipation Rating Table; (8)Ouput current, IO: ±5mA.
Features
SN65LVDS302ZQER features: (1)Serial Interface technology; (2)Compatible with FlatLink 3G such as SN65LVD301; (3)Supports Video Interfaces up to 24-bit RGB Data and 3 Control Bits Received over 1, 2 or 3 SubLVDS Differential lines; (4)SubLVDS Differential Voltage Levels; (5)Up to 1.755 Gbps Data Throughput; (6)Three Operating Modes to Conserve Power; (7)Bus-Swap Function for PCB-Layout Flexibility; (8)ESD Rating >4 kV (HBM); (9)Pixel Clock Range of 4 MHz–65 MHz; (10)Failsafe on all CMOS Inputs.
Diagrams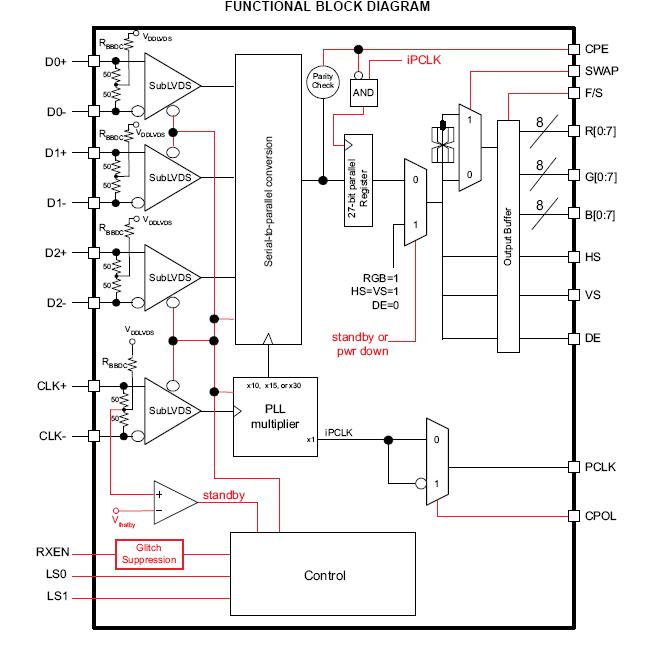 Image
Part No
Mfg
Description
Pricing
(USD)
Quantity

SN65LVDS302ZQER

Texas Instruments

Serializers & Deserializers (Serdes) Interface IC Programmable 27B Displ Ser Interface

Data Sheet



| | |
| --- | --- |
| 0-1855: | $1.58 |
| 1855-2000: | $1.52 |
| 2000-2500: | $1.52 |

Image
Part No
Mfg
Description
Pricing
(USD)
Quantity

SN65CML100D

Texas Instruments

LVDS Interface IC 1.5Gbps LVDS

Data Sheet



| | |
| --- | --- |
| 0-1: | $2.53 |
| 1-25: | $2.30 |
| 25-100: | $1.85 |
| 100-250: | $1.61 |


SN65EL11D

Texas Instruments

Clock Buffer PECL/ECL 1:2 Fanout Buffer

Data Sheet



| | |
| --- | --- |
| 0-1: | $1.83 |
| 1-25: | $1.50 |
| 25-100: | $1.36 |
| 100-250: | $1.24 |


SN65EL11DGK

Texas Instruments

Clock Buffer PECL/ECL 1:2 Fanout Buffer

Data Sheet



| | |
| --- | --- |
| 0-1: | $1.83 |
| 1-25: | $1.50 |
| 25-100: | $1.36 |
| 100-250: | $1.24 |


SN65C23243DL

Texas Instruments

RS-232 Interface IC 3-V to 5.5-V Dual RS-232 Port

Data Sheet



| | |
| --- | --- |
| 0-1: | $3.89 |
| 1-25: | $3.28 |
| 25-100: | $3.01 |
| 100-250: | $2.74 |


SN65ALS544NS



IC DIFF INTERFACE LD DRVR 20-SOP

Data Sheet



SN65ALS544NSR



IC DIFF INTERFACE LD DRVR 20-SOP

Data Sheet



| | |
| --- | --- |
| 0-1: | $2.16 |
| 1-25: | $1.73 |
| 25-100: | $1.34 |
| 100-250: | $1.28 |