Product Summary
The XTR105U is a monolithic 4-20mA, two-wire current transmitter with two precision current sources. It provides complete current excitation for Platinum RTD temperature sensors and bridges, instrumentation amplifier, and current output circuitry on a single integrated circuit. The applications of the XTR105U are: (1)industriaprocess control; (2)factory automation; (3)scada remote data acquisition; (4)remote temperature and pressure transducers.
Parametrics
XTR105U absolute maximum ratings: (1)Power Supply, V+ (referenced to IO pin): 40V; (2)Input Voltage, VIN, VIN (referenced to IO pin): 0V to V+; (3)Storage Temperature Range: –55℃ to +125℃; (4)Lead Temperature (soldering, 10s): +300℃; (5)Output Current Limit: Continuous; (6)Junction Temperature: +165℃.
Features
XTR105U features: (1)Low unadjusted error; (2)Two precision current sources 800μA each; (3)RTD or bridge excitation; (4)Linearization; (5)Two or three-wire rtd operation; (6)Low offset drift: 0.4mV/℃; (7)Low output current noise: 30nAp-p; (8)High PSR: 110dB min; (9)High CMR: 86dB min; (10)Wide supply range: 7.5V TO 36V; (11)14-pin dip and so-14 soic packages.
Diagrams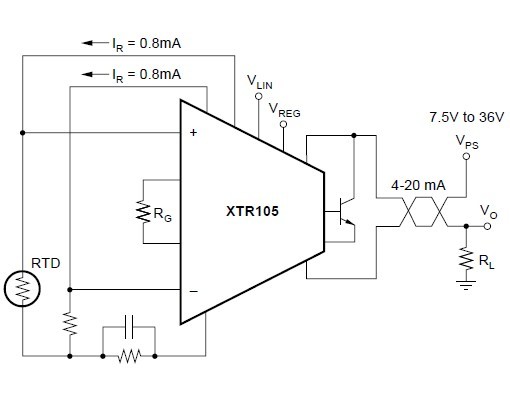 Image
Part No
Mfg
Description
Pricing
(USD)
Quantity

XTR105U

Texas Instruments

Current Sense Amplifiers 4-20mA Crnt Trnsmtr w/Sensor Exc & Lin

Data Sheet



| | |
| --- | --- |
| 0-1: | $7.65 |
| 1-10: | $6.97 |
| 10-25: | $6.44 |
| 25-50: | $6.22 |


XTR105U/2K5



IC 4-20 MA I-TRANSMITTER 14-SOIC

Data Sheet

Negotiable

XTR105UA

Texas Instruments

Current Sense Amplifiers 4-20mA Crnt Trnsmtr w/Sensor Exc & Lin

Data Sheet



| | |
| --- | --- |
| 0-1: | $7.49 |
| 1-10: | $6.73 |
| 10-25: | $5.99 |
| 25-50: | $5.65 |


XTR105UA/2K5

Texas Instruments

Current Sense Amplifiers 4-20mA Crnt Trnsmtr w/Sensor Exc & Lin

Data Sheet



| | |
| --- | --- |
| 0-2002: | $3.10 |
| 2002-2500: | $3.10 |


XTR105UA/2K5E4

Texas Instruments

Current Sense Amplifiers 4-20mA Crnt Trnsmtr w/Sensor Exc & Lin

Data Sheet



| | |
| --- | --- |
| 0-2002: | $3.10 |
| 2002-2500: | $3.10 |


XTR105UAG4

Texas Instruments

Current Sense Amplifiers 4-20mA Crnt Trnsmtr w/Sensor Exc & Lin

Data Sheet



| | |
| --- | --- |
| 0-1: | $7.49 |
| 1-10: | $6.73 |
| 10-25: | $5.99 |
| 25-50: | $5.65 |


XTR105UG4

Texas Instruments

Current Sense Amplifiers 4-20mA Crnt Trnsmtr w/Sensor Exc & Lin

Data Sheet



| | |
| --- | --- |
| 0-1: | $7.65 |
| 1-10: | $6.97 |
| 10-25: | $6.44 |
| 25-50: | $6.22 |