Product Summary
The TSC2007IPW is a very low-power touch screen controller designed to work with power-sensitive, handheld applications that are based on an advanced low-voltage processor. It works with a supply voltage as low as 1.2V, which can be supplied by a single-cell battery. It contains a complete, ultra-low power, 12-bit, analog-to-digital (A/D) resistive touch screen converter, including drivers and the control logic to measure touch pressure. The applications of the TSC2007IPW include Cellular Phones, PDA, GPS, and Media Players, Portable Instruments, Point-of-Sale Terminals, Multiscreen Touch Control.
Parametrics
TSC2007IPW absolute maxing ratings: (1)Voltage Analog input X+, Y+, AUX to GND: -0.4 to VDD+0.1 V; Analog input X–, Y– to GND: -0.4 to VDD+0.1 V; (2)Voltage range VDD to GND: -0.3 to +5 V; (3)Digital input voltage to GND: -0.3 to VDD+0.3 V; (4)Digital output voltage to GND: -0.3 to VDD+0.3 V; (5)Power dissipation: (TJ Max - TA)/θJA; (6)Thermal impedance, θJA TSSOP Package: 86℃/W; WCSP package Low-K: 113℃/W, High-K 62℃/W; (7)Operating free-air temperature range, TA: -40 to +85℃; (8)Storage temperature range, TSTG: -65 to +150℃; (9)Junction temperature, TJ Max: +150℃; (10)Lead temperature, Vapor phase (60 sec): +215℃; Infrared (15 sec): +220℃.
Features
TSC2007IPW features: (1)4-Wire Touch Screen Interface; (2)Single 1.2V to 3.6V Supply/Reference; (3)Ratiometric Conversion; (4)Effective Throughput Rate: Up to 20kHz (8-Bit) or 10kHz (12-Bit); (5)Preprocessing to Reduce Bus Activity; (6)I2C Interface Supports: Standard, Fast, and High-Speed Modes; (7)Simple, Command-Based User Interface: TSC2003 Compatible; 8- or 12-Bit Resolution; (8)On-Chip Temperature Measurement; (9)Touch Pressure Measurement; (10)Digital Buffered PENIRQ; (11)On-Chip, Programmable PENIRQ Pullup; (12)Auto Power-Down Control; (13)Low Power: 32.24mA at 1.2V, Fast Mode, 8.2kHz Eq Rate; 39.31mA at 1.8V, Fast Mode, 8.2kHz Eq Rate; 53.32mA at 2.7V, Fast Mode, 8.2kHz Eq Rate; (14)Enhanced ESD Protection: ±8kV HBM; ±1kV CDM; ±25kV Air Gap Discharge; ±15kV Contact Discharge; (15)1.5 x 2 WCSP-12 and 5 x 6.4 TSSOP-16 package.
Diagrams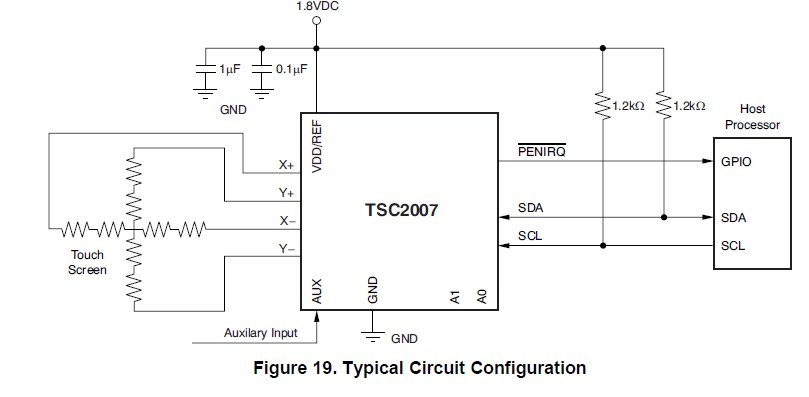 Image
Part No
Mfg
Description
Pricing
(USD)
Quantity

TSC2007IPW

Texas Instruments

Touch Screen Converters & Controllers NANO-PWR CONTROLLER

Data Sheet



| | |
| --- | --- |
| 0-1: | $2.57 |
| 1-25: | $2.35 |
| 25-100: | $1.88 |
| 100-250: | $1.64 |


TSC2007IPWG4

Texas Instruments

Touch Screen Converters & Controllers Nano-Power w/ I2C Serial Interface

Data Sheet



| | |
| --- | --- |
| 0-1: | $2.57 |
| 1-25: | $2.17 |
| 25-100: | $1.90 |
| 100-250: | $1.65 |


TSC2007IPWR

Texas Instruments

Touch Screen Converters & Controllers NANO-PWR CONTROLLER

Data Sheet



| | |
| --- | --- |
| 0-1: | $2.29 |
| 1-25: | $1.87 |
| 25-100: | $1.68 |
| 100-250: | $1.60 |


TSC2007IPWRQ1

Texas Instruments

Touch Screen Converters & Controllers AC Nano-Pwr Touch Screen Controller

Data Sheet



| | |
| --- | --- |
| 0-1560: | $1.33 |
| 1560-2000: | $1.30 |
| 2000-4000: | $1.29 |


TSC2007IPWRG4

Texas Instruments

Touch Screen Converters & Controllers Nano-Power w/ I2C Serial Interface

Data Sheet



| | |
| --- | --- |
| 0-1490: | $1.19 |
| 1490-2000: | $1.15 |
| 2000-5000: | $1.10 |