Product Summary
The TPS56300PWP is a high performance synchronous-buck regulator provides two supply voltages to power the core and I/O of digital signal processors, such as the 'C6000 family. The ripple regulator, using hysteretic control with droop compensation, is configured for the core voltage and features fast transient response time reducing output bulk capacitance.
Parametrics
TPS56300PWP absolute maximum ratings: (1)Supply voltage range, VCC: -0.3 V to 6 V; (2)Input voltage range: VDRV: -0.3 V to 7 V; BOOT to DRVGND (High; side Driver ON): -0.3 V to 15 V; BOOT to BOOTLO: -0.3 V to 7 V; BOOT to HIGHDRV: -0.3 V to 7 V; BOOTLO to DRVGND: -0.5 V to 15 V; DRV to DRVGND: -0.3 V to 7 V; BIAS to ANAGND: -0.3 V to 7 V; INHIBIT: -0.3 V to 7 V; DROOP: -0.3 V to VCC + 0.3 V; OCP: -0.3 V to 7 V; VID0, VID1 (tri-level terminals): -0.3 V to VBIAS + 0.3 V; PWRGD: -0.3 V to 6 V; LOSENSE, LOHIB: -0.5 V to 14 V; IOUTLO: -0.3 V to 14 V; HISENSE: -0.3 V to 7 V; VSEN–LDO: -0.3 V to 6 V; VSEN–RR: -0.3 V to 6 V; (3)Voltage difference between ANAGND and DRVGND: ±300 mV; (4)Continuous total power dissipation: See Dissipation Rating Table; (5)Operating virtual junction temperature range, TJ: -40℃ to 125℃; (6)Storage temperature range, Tstg: -65℃ to 150℃; (7)Lead temperature soldering 1,6 mm (1/16 inch) from case for 10 seconds: 300℃.
Features
TPS56300PWP features: (1)2.8 V-5.5 V Input Voltage Range; (2)Programmable Dual Output Controller Supports Popular DSP and Microcontroller Core and I/O Voltages; (3)Switching Regulator Controls Core Voltage; (4)Low Dropout Controller Regulates I/O Voltage; (5)Programmable Slow-Start Ensures Simultaneous Powerup of Both Outputs; (6)Power Good Output Monitors Both Outputs; (7)Fast Ripple Regulator Reduces Bulk Capacitance for Lower System Costs; (8)±1.5% Reference Voltage Tolerance; (9)Efficiencies Greater than 90%; (10)Overvoltage, Undervoltage, and Adjustable Overcurrent Protection; (11)Drives Low-Cost Logic Level N-Channel MOSFETs Through Entire Input Voltage Range; (12)Evaluation Module TPS56300EVM–139 Available.
Diagrams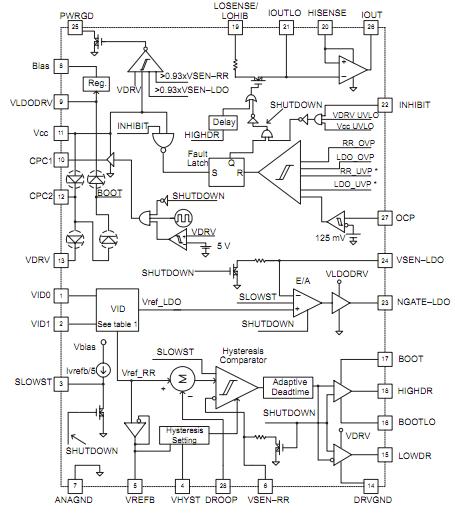 Image
Part No
Mfg
Description
Pricing
(USD)
Quantity

TPS56300PWP

Texas Instruments

DC/DC Switching Controllers Dual Output Lo Input Vltg Controllers

Data Sheet



| | |
| --- | --- |
| 0-1: | $4.59 |
| 1-25: | $4.46 |
| 25-100: | $4.33 |
| 100-250: | $4.00 |


TPS56300PWPG4

Texas Instruments

DC/DC Switching Controllers Dual Output Low Input Vltg Cntrlr

Data Sheet



| | |
| --- | --- |
| 0-1: | $4.59 |
| 1-25: | $4.46 |
| 25-100: | $4.33 |
| 100-250: | $4.00 |


TPS56300PWPRG4

Texas Instruments

DC/DC Switching Controllers Dual Output Low Input Vltg Cntrlr

Data Sheet



| | |
| --- | --- |
| 0-1506: | $3.47 |
| 1506-2000: | $3.26 |


TPS56300PWPR

Texas Instruments

DC/DC Switching Controllers Dual Output Low Input Vltg Cntrlr

Data Sheet



| | |
| --- | --- |
| 0-1506: | $3.47 |
| 1506-2000: | $3.26 |