Product Summary
The OPA2335AIDR is a single-supply cmos operational amplifier. The OPA2335AIDR CMOS operational amplifier uses auto-zeroing techniques to simultaneously provide very low offset voltage (5μV max), and near-zero drift over time and temperature. These miniature, high-precision, low quiescent current amplifiers offer high input impedance and rail-to-rail output swing. Single or dual supplies as low as +2.7V (±1.35V) and up to +5.5V (±2.75V) may be used. The op amp OPA2335AIDR is optimized for low-voltage, single-supply operation.
Parametrics
OPA2335AIDR absolute maximum ratings: (1)Supply Voltage: +7V; (2)Signal Input Terminals, Voltage: –0.5V to (V+) + 0.5V; (3)Current: ±10mA; (4)Output Short Circuit: Continuous; (5)Operating Temperature: –40℃ to +150℃; (6)Storage Temperature: –65℃ to +150℃; (7)Junction Temperature: +150℃; (8)Lead Temperature (soldering, 10s): +300℃.
Features
OPA2335AIDR features: (1)Low offset voltage: 5μV (max); (2)Zero drift: 0.05μV/℃ (max); (3)Quiescent current: 285μA; (4)Single-supply operation; (5)Single and dual versions; (6)Shutdown; (7)Microsize packages.
Diagrams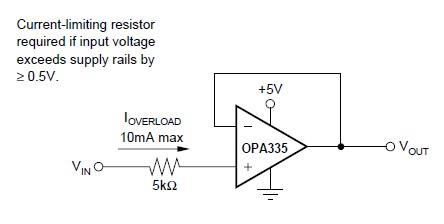 Image
Part No
Mfg
Description
Pricing
(USD)
Quantity

OPA2335AIDR

Texas Instruments

Operational Amplifiers - Op Amps 0.05uV/C max Single-Supply CMOS

Data Sheet



| | |
| --- | --- |
| 0-1: | $2.38 |
| 1-25: | $1.94 |
| 25-100: | $1.74 |
| 100-250: | $1.66 |


OPA2335AIDRG4

Texas Instruments

Operational Amplifiers - Op Amps 0.05uV/C max Single-Supply CMOS

Data Sheet



| | |
| --- | --- |
| 0-1855: | $1.23 |
| 1855-2000: | $1.19 |
| 2000-2500: | $1.19 |
| 2500-5000: | $1.14 |