Product Summary
The XTR114U is a 4-20mA current transmitter with sensor excitation and linearization. The XTR114U has two 100mA sources for RTD excitation. The XTR114U operates on loop power supply voltages down to 7.5V.
Parametrics
XTR114U absolute maximum ratings: (1)Power Supply, V+ (referenced to IO pin): 40V; (2)Input Voltage, VIN, VIN (referenced to IO pin): 0V to V+; (3)Storage Temperature Range: –55℃ to +125℃; (4)Lead Temperature (soldering, 10s): +300℃; (5)Output Current Limit: Continuous; (6)Junction Temperature: +165℃.
Features
XTR114U features: (1)low unadjusted error; (2)precision current sources; (3)XTR112: Two 250mA; (4)XTR114: Two 100mA; (5)RTD or bridge excitation; (6)linearization; (7)two or three-wire rtd operation; (8)low offset drift: 0.4mV/℃; (9)low output current noise: 30nAp-p; (10)High PSR: 110dB min; (11)High CMR: 86dB min; (12)wide supply range: 7.5V to 36V; (13)SO-14 SOIC package.
Diagrams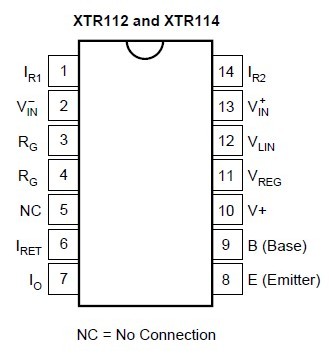 Image
Part No
Mfg
Description
Pricing
(USD)
Quantity

XTR114U

Texas Instruments

Current Sense Amplifiers 4-20mA Crnt Trnsmtr w/Sensor Exc & Lin

Data Sheet



| | |
| --- | --- |
| 0-1: | $6.64 |
| 1-10: | $6.05 |
| 10-25: | $5.59 |
| 25-50: | $5.40 |


XTR114U/2K5



IC 4-20MA I-TRANSMITTER 14-SOIC

Data Sheet

Negotiable

XTR114UA

Texas Instruments

Current Sense Amplifiers 4-20mA Crnt Trnsmtr w/Sensor Exc & Lin

Data Sheet



| | |
| --- | --- |
| 0-1: | $5.40 |
| 1-10: | $4.85 |
| 10-25: | $4.32 |
| 25-50: | $4.07 |


XTR114UAE4

Texas Instruments

Current Sense Amplifiers 4-20mA Crnt Trnsmtr w/Sensor Exc & Lin

Data Sheet



| | |
| --- | --- |
| 0-1: | $5.40 |
| 1-10: | $4.85 |
| 10-25: | $4.32 |
| 25-50: | $4.07 |


XTR114UA/2K5E4

Texas Instruments

Current Sense Amplifiers 4-20mA Crnt Trnsmtr w/Sensor Exc & Lin

Data Sheet

Negotiable

XTR114UA/2K5



IC 4-20MA I-TRANSMITTER 14-SOIC

Data Sheet

Negotiable

XTR114UE4

Texas Instruments

Current Sense Amplifiers 4-20mA Crnt Trnsmtr w/Sensor Exc & Lin

Data Sheet



| | |
| --- | --- |
| 0-1: | $6.64 |
| 1-10: | $6.05 |
| 10-25: | $5.59 |
| 25-50: | $5.40 |