Product Summary
The XTR110KP is a precision voltage-to-current converter/transmitter. The XTR110KP is a precision voltage-to-current converter designed for analog signal transmission. It accepts inputs of 0 to 5V or 0 to 10V and can be connected for outputs of 4 to 20mA, 0 to 20mA, 5 to 25mA and many other commonly used ranges. A precision on-chip metal film resistor network of the XTR110KP provides input scaling and current offsetting. An internal 10V voltage reference can be used to drive external circuitry.
Parametrics
XTR110KP absolute maximum ratings: (1)Power Supply, +VCC: 40V; (2)Input Voltage, VIN1, VIN2, VREF IN: +VCC; (3)See text regarding safe negative input voltage range.; (4)Storage Temperature Range: A, B: –55℃ to +125℃; (5)K, U: –40℃ to +85℃; (6)Lead Temperature; (7)(soldering, 10s) G, P: 300℃; (8)(wave soldering, 3s) U: 260℃; (9)Output Short-Circuit Duration, Gate Drive; (10)and VREF Force: Continuous to common and +VCC; (11)Output Current Using Internal 50W Resistor: 40mA.
Features
XTR110KP features: (1)4mA TO 20mA transmitter; (2)Selectable input/output ranges: 0V to +5V, 0V to +10V Inputs. 0mA to 20mA, 5mA to 25mA Outputs Other Ranges; (3)0.005% max nonlinearity, 14 BIT; (4)Precision +10v reference output; (5)Single supply operation; (6)Wide supply range: 13.5V to 40V.
Diagrams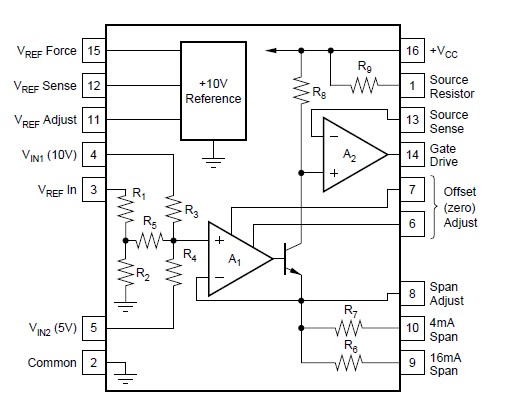 Image
Part No
Mfg
Description
Pricing
(USD)
Quantity

XTR110KP

Texas Instruments

Current Sense Amplifiers Prec Vltg-To-Crnt Cnertr/Trnsmtr

Data Sheet



| | |
| --- | --- |
| 0-1: | $8.42 |
| 1-10: | $7.67 |
| 10-25: | $7.09 |
| 25-50: | $6.85 |


XTR110KPG4

Texas Instruments

Current Sense Amplifiers Prec Vltg-To-Crnt Cnertr/Trnsmtr

Data Sheet



| | |
| --- | --- |
| 0-25: | $7.09 |
| 25-50: | $6.85 |
| 50-100: | $5.14 |
| 100-250: | $5.08 |