Product Summary
The TPS54327DDAR is an adaptive on-time D-CAP2 mode synchronous buck converter. The TPS54327DDAR enables system designers to complete the suite of various end equipment's power bus regulators with a cost effective, low component count, low standby current solution. The main control loop for the TPS54327DDAR uses the D-CAP2 mode control which provides a fast transient response with no external compensation components. The applications of the TPS54327DDAR include Wide Range of Applications for Low Voltage System, Digital TV Power Supply, High Definition Blu-ray Disc Players, Networking Home Terminal, Digital Set Top Box (STB).
Parametrics
TPS54327DDAR absolute maximum ratings: (1)Input voltage range, VIN, EN: -0.3 to 20 V; VBST: -0.3 to 26 V; VBST (10 ns transient): -0.3 to 28 V; VBST (vs SW): -0.3 to 6.5 V; VFB, SS: -0.3 to 6.5 V; SW: -2 to 20 V; SW (10 ns transient): -3 to 22 V; (2)Output voltage range, VREG5: -0.3 to 6.5 V; GND: -0.3 to 0.3 V; (3)Voltage from GND to thermal pad, Vdiff: -0.2 to 0.2 V; (4)Electrostatic discharge, Human Body Model (HBM): 2 kV; Charged Device Model (CDM): 500 V; (5)Operating junction temperature, TJ: -40 to 150℃; (6)Storage temperature, Tstg: -55 to 150℃.
Features
TPS54327DDAR features: (1)D-CAP2 Mode Enables Fast Transient Response; (2)Low Output Ripple and Allows Ceramic Output Capacitor; (3)Wide VIN Input Voltage Range: 4.5 V to 18 V; (4)Output Voltage Range: 0.76 V to 7.0 V; (5)Highly Efficient Integrated FET's Optimized for Lower Duty Cycle Applications 100 mΩ (High Side) and 70 mΩ (Low Side); (6)High Efficiency, less than 10 mA at shutdown; (7)High Initial Bandgap Reference Accuracy; (8)Adjustable Soft Start; (9)Pre-Biased Soft Start; (10)700-kHz Switching Frequency (fSW); (11)Cycle By Cycle Over Current Limit.
Diagrams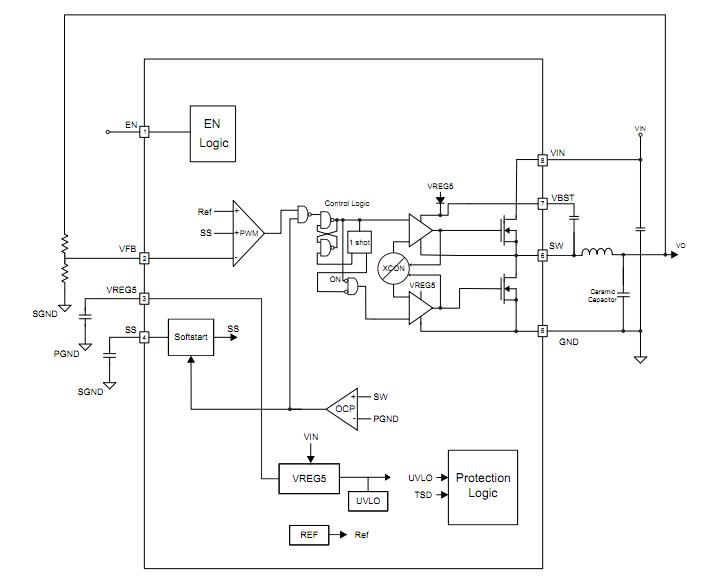 Image
Part No
Mfg
Description
Pricing
(USD)
Quantity

TPS54327DDAR

Texas Instruments

DC/DC Switching Converters 4.5-18Vin,3A Sync Step-Down Cnvrtr

Data Sheet



| | |
| --- | --- |
| 0-1785: | $1.24 |
| 1785-2000: | $1.17 |
| 2000-2500: | $1.17 |
| 2500-5000: | $1.13 |

Image
Part No
Mfg
Description
Pricing
(USD)
Quantity

TPS5100

Other



Data Sheet

Negotiable

TPS5100IPW

Texas Instruments

DC/DC Switching Controllers Lo Inpt Vltg Triple Ch Cntrllr

Data Sheet



| | |
| --- | --- |
| 0-1: | $2.33 |
| 1-25: | $1.91 |
| 25-100: | $1.67 |
| 100-250: | $1.45 |


TPS5100IPWR

Texas Instruments

DC/DC Switching Controllers Lo Input Vltg Triple Ch Cntrlr

Data Sheet



| | |
| --- | --- |
| 0-1490: | $1.05 |
| 1490-2000: | $1.01 |
| 2000-5000: | $0.97 |


TPS5100IPWRG4

Texas Instruments

DC/DC Switching Controllers Lo Input Vltg Triple Ch Cntrlr

Data Sheet



| | |
| --- | --- |
| 0-1490: | $1.05 |
| 1490-2000: | $1.01 |
| 2000-5000: | $0.97 |


TPS5102

Other



Data Sheet

Negotiable

TPS51020

Other



Data Sheet

Negotiable