Product Summary
The THS1031IDW is a CMOS, low power, 10-bit, 30 MSPS analog-to-digital converter (ADC) that can operate with a supply range from 2.7 V to 3.3 V. The THS1031IDW has been designed to give circuit developers more flexibility. The analog input to the THS1031IDW can be either single-ended or differential. This device has a built-in clamp amplifier whose clamp input level can be selected from an external dc source or from an internal high-precision 10-bit digital clamp level programmable via an internal CLAMP register. A 3-bit PGA is included to maintain SNR for small signal. The THS1031IDW provides a wide selection of voltage reference to match the user's design requirements. For more design flexibility, the internal reference can be bypassed to use an external reference to suit the dc accuracy and temperature drift requirements of the application. The out-of-range output is used to monitor any out-of-range condition in THS1031IDW's input range. The format of digital output can be coded in either straight binary or 2s complement.
Parametrics
THS1031IDW absolute maximum ratings: (1)Supply voltage: AVDD to AGND, DVDD to DGND:–0.3 to 6.5 V; (2)AGND to DGND:–0.3 to 0.3 V; (3)AVDD to DVDD:–6.5 to 6.5 V; (4)Mode input MODE to AGND:–0.3 to AVDD + 0.3 V; (5)Reference voltage input range REFTF, REFTB, REFTS, REFBS to AGND : –0.3 to AVDD + 0.3 V; (6)Analog input voltage range AIN to AGND:–0.3 to AVDD + 0.3 V; (7)Reference input VREF to AGND:–0.3 to AVDD + 0.3 V; (8)Reference output VREF to AGND:–0.3 to AVDD + 0.3 V; (9)Clock input CLK to AGND:–0.3 to AVDD + 0.3 V; (10)Digital input to DGND:–0.3 to DVDD + 0.3 V; (11)Digital output to DGND:–0.3 to DVDD + 0.3 V; (12)Operating junction temperature range, TJ: 0℃ to 150℃; (13)Storage temperature range, TSTG:–65℃ to 150℃; (14)Lead temperature 1,6 mm (1/16 in) from case for 10 seconds: 300℃.
Features
THS1031IDW features: (1)10-Bit Resolution 30 MSPS Analog-to-Digital Converter; (2)Configurable Input Functions: Single-Ended, Single-Ended With Analog Clamp, Single-Ended With Programmable Digital Clamp, Differential; (3)Built-in Programmable Gain Amplifier (PGA); (4)Differential Nonlinearity: ±0.3 LSB; (5)Signal-to-Noise: 56 dB; (6)Spurious Free Dynamic Range: 60 dB; (7)Adjustable Internal Voltage Reference; (8)Straight Binary/2s Complement Output; (9)Out-of-Range Indicator; (10)Power-Down Mode.
Diagrams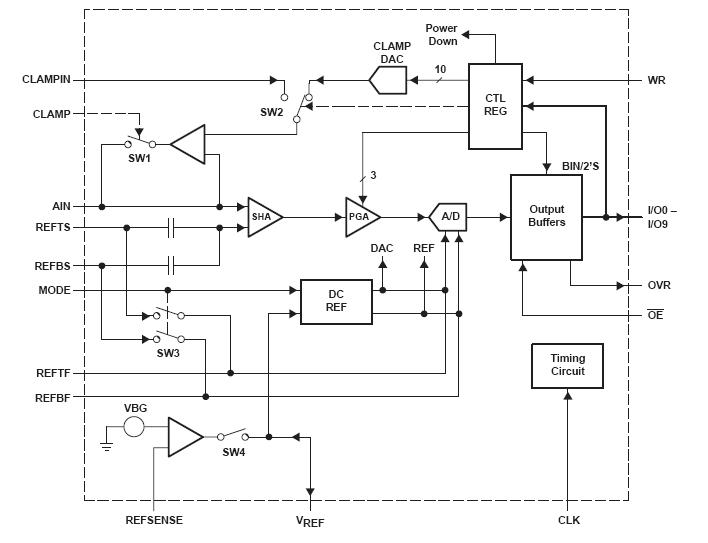 Image
Part No
Mfg
Description
Pricing
(USD)
Quantity

THS1031IDW

Texas Instruments

ADC (A/D Converters) _

Data Sheet



| | |
| --- | --- |
| 0-1: | $6.16 |
| 1-25: | $5.41 |
| 25-100: | $4.42 |
| 100-250: | $4.33 |


THS1031IDWG4

Texas Instruments

ADC (A/D Converters) 10-Bit 30 MSPS 1-Ch

Data Sheet



| | |
| --- | --- |
| 0-1: | $6.35 |
| 1-25: | $5.41 |
| 25-100: | $4.27 |
| 100-250: | $4.10 |


THS1031IDWRG4

Texas Instruments

ADC (A/D Converters) 10-Bit 30 MSPS 1-Ch

Data Sheet

Negotiable

THS1031IDWR

Texas Instruments

ADC (A/D Converters) 10-Bit 30 MSPS 1-Ch

Data Sheet

Negotiable