Product Summary
The REF5025AIDRG4 is a low-noise, low-drift, very high precision voltage reference. The reference is capable of both sinking and sourcing, and are very robust with regard to line and load changes. The applications of the REF5025AIDRG4 are 16-bit data acquisition systems, ate equipment, industrial process control, medical instrumentation, optical control systems and precision instrumentation.
Parametrics
REF5025AIDRG4 absolute maximum ratings: (1)Input Voltage: +18 V; (2)Output Short-Circuit: 30 mA; (3)Operating Temperature Range: – 55 to +125℃; (4)Storage Temperature Range: – 55 to +150℃; (5)Junction Temperature (T J max): +150℃; (6)ESD Rating, Human Body Model (HBM): 3000 V; Charged Device Model (CDM): 1000 V.
Features
REF5025AIDRG4 features: (1)low temperature drift: High-Grade: 3ppm/℃ (max); Standard-Grade: 8ppm/℃ (max); (2)high accuracy: High-Grade: 0.05% (max); Standard-Grade: 0.1% (max); (3)low noise: 3 μVPP/V; (4)high output current: ± 10mA; (5)temperature range: – 40 to +125℃.
Diagrams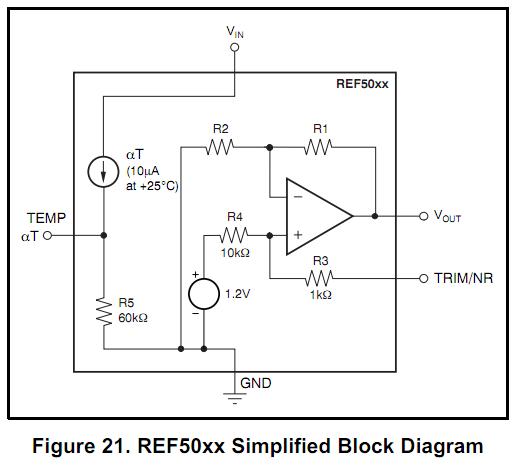 Image
Part No
Mfg
Description
Pricing
(USD)
Quantity

REF5025AIDRG4

Texas Instruments

Voltage & Current References Low Noise Very Low Drift Prec Vltg Ref

Data Sheet



| | |
| --- | --- |
| 0-2020: | $0.91 |
| 2020-2500: | $0.91 |

Image
Part No
Mfg
Description
Pricing
(USD)
Quantity

REF5025AIDRG4

Texas Instruments

Voltage & Current References Low Noise Very Low Drift Prec Vltg Ref

Data Sheet



| | |
| --- | --- |
| 0-2020: | $0.91 |
| 2020-2500: | $0.91 |


REF5030IDGKT

Texas Instruments

Voltage & Current References Lo Noise Very Lo Drift Prec Vltg Ref

Data Sheet



| | |
| --- | --- |
| 0-190: | $2.30 |
| 190-250: | $2.25 |
| 250-500: | $2.21 |
| 500-750: | $2.17 |


REF5030IDGKR

Texas Instruments

Voltage & Current References Lo Noise Very Lo Drift Prec Vltg Ref

Data Sheet



| | |
| --- | --- |
| 0-2010: | $1.99 |
| 2010-2500: | $1.99 |


REF5025IDR

Texas Instruments

Voltage & Current References Lo Noise Very Low Drift Prec VLTG REF

Data Sheet



| | |
| --- | --- |
| 0-2010: | $1.99 |
| 2010-2500: | $1.99 |


REF5020AIDRG4

Texas Instruments

Voltage & Current References Low Noise Very Low Drift Prec Vltg Ref

Data Sheet



| | |
| --- | --- |
| 0-2020: | $0.91 |
| 2020-2500: | $0.91 |


REF5025AIDGKR

Texas Instruments

Voltage & Current References Lo Noise Very Lo Drift Prec Vltg Ref

Data Sheet



| | |
| --- | --- |
| 0-2020: | $0.91 |
| 2020-2500: | $0.91 |