Product Summary
The OPA333AIDCKR is a CMOS operational amplifier. It uses a proprietary auto-calibration technique to simultaneously provide very low offset voltage (10 mV max) and near-zero drift over time and temperature. This miniature, high-precision, low-quiescent-current amplifiers offer high-impedance inputs that have a common-mode range 100 mV beyond the rails, and rail-to-rail output that swings within 50 mV of the rails. Single or dual supplies as low as 1.8 V (±0.9 V) and up to 5.5 V (±2.75 V) may be used. They are optimized for low-voltage single supply operation. The OPA333AIDCKR offers excellent common-mode rejection ratio (CMRR) without the crossover associated with traditional complementary input stages. This design results in superior performance for driving analog-to-digital converters (ADCs) without degradation of differential linearity.
Parametrics
OPA333AIDCKR absolute maximum ratings:(1)Supply voltage: 7V; (2)Signal input terminals, voltage: –0.3 to (V+)+0.3V; (3)Output short circuit: Continuous; (4)Operating temperature range: –55 to 125℃; (5)Storage temperature range: –65 to 150℃; (6)Junction temperature: 150℃; (7)ESD rating Human-Body Model (HBM): 4000V; (8)Charged-Device Model (CDM): 1000V.
Features
OPA333AIDCKR features: (1)Low Offset Voltage: 23 μV (Max); (2)0.01-Hz to 10-Hz Noise: 1.1 μVPP; (3)Quiescent Current: 17 μA; (4)Single-Supply Operation; (5)Supply Voltage: 1.8 V to 5.5 V; (6)Rail-to-Rail Input/Output; (7)MicroSize Packages: SC70 and SOT23.
Diagrams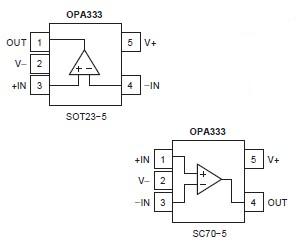 Image
Part No
Mfg
Description
Pricing
(USD)
Quantity

OPA333AIDCKR

Texas Instruments

Operational Amplifiers - Op Amps 1.8V 17uA 2uV microPOWER CMOS

Data Sheet



| | |
| --- | --- |
| 0-1: | $1.28 |
| 1-10: | $1.15 |
| 10-25: | $1.03 |
| 25-100: | $0.69 |


OPA333AIDCKRG4

Texas Instruments

Operational Amplifiers - Op Amps 1.8V 17uA 2uV microPOWER CMOS

Data Sheet



| | |
| --- | --- |
| 0-2420: | $0.64 |
| 2420-3000: | $0.62 |