Product Summary
The LME49724MR is an ultra-low distortion, low noise, high slew rate fully-differential operational amplifier optimized and fully specified for high performance, high fidelity applications. Combining advanced leading-edge process technology with state of the art circuit design, the LME49724MR fully-differential audio operational amplifier delivers superior audio signal amplification for outstanding audio performance. The applications of the LME49724MR are (1)Ultra high quality audio amplification; (2)High fidelity preamplifiers and active filters; (3)Simple single-ended to differential conversion; (4)State of the art D-to-A converters; (5)State of the art A-to-D input amplifiers; (6)Professional Audio; (7)High fidelity equalization and crossover networks; (8)High performance line drivers and receivers.
Parametrics
LME49724MR absolute maximum ratings: (1)Power Supply Voltage: 38V; (2)Storage Temperature: -65 to 150℃; (3)Input Voltage (VEE): –0.7V to (VCC) + 0.7V; (4)Output Short Circuit: Continuous; (5)Power Dissipation: Internally Limited; (6)ESD Rating: 2000V; (7)ESD Rating: 200V; (8)Junction Temperature (TJMAX): 150℃.
Features
LME49724MR features: (1)Drives 600Ω loads with full output signal swing; (2)Optimized for superior audio signal fidelity; (3)Output short circuit protection; (4)PSRR and CMRR exceed 100dB (typ); (5)Available in PSOP package.
Diagrams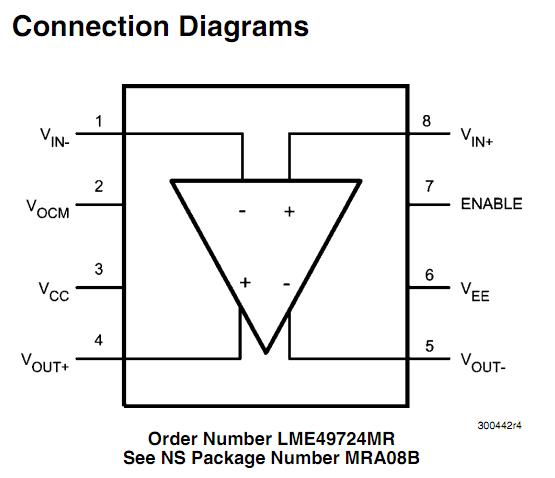 Image
Part No
Mfg
Description
Pricing
(USD)
Quantity

LME49724MR

National Semiconductor (TI)

Operational Amplifiers - Op Amps

Data Sheet



| | |
| --- | --- |
| 0-285: | $1.55 |
| 285-570: | $1.39 |
| 570-1045: | $1.18 |
| 1045-2565: | $1.12 |


LME49724MR/NOPB

National Semiconductor (TI)

Operational Amplifiers - Op Amps Hi Perf, Hi-Fi, Full Diff Aud Op Amp

Data Sheet



| | |
| --- | --- |
| 0-1: | $1.85 |
| 1-25: | $1.49 |
| 25-100: | $1.35 |
| 100-250: | $1.22 |


LME49724MRX/NOPB

National Semiconductor (TI)

Operational Amplifiers - Op Amps

Data Sheet



| | |
| --- | --- |
| 0-1890: | $0.88 |
| 1890-2500: | $0.88 |
| 2500-5000: | $0.84 |


LME49724MRX

National Semiconductor (TI)

Operational Amplifiers - Op Amps

Data Sheet



| | |
| --- | --- |
| 0-2500: | $1.12 |
| 2500-5000: | $1.07 |