Product Summary
The LM2621MM/NOPB is a high efficiency, step-up DC-DC switching regulator for battery-powered and low input voltage systems. It accepts an input voltage between 1.2V and 14V and converts it into a regulated output voltage. The output voltage can be adjusted between 1.24V and 14V. It has an internal 0.17W N-Channel MOSFET power switch. Efficiencies up to 90% are achievable using the LM2621MM/NOPB. The high switching frequency (adjustable up to 2MHz) of the LM2621MM/NOPB allows for tiny surface mount inductors and capacitors. Because of the unique constant-duty-cycle gated oscillator topology very high efficiencies are realized over a wide load range. The supply current is reduced to 80μA because of the BiCMOS process technology. In the shutdown mode, the supply current is less than 2.5μA. The LM2621MM/NOPB is available in a Mini-SO-8 package. This package uses half the board area of a standard 8-pin SO and has a height of just 1.09 mm.
Parametrics
LM2621MM/NOPB absolute maximum ratings: (1)SW Pin Voltage: -0.5 V to 14.5V; (2)BOOT, VDD, EN and FB Pins: -0.5V to 10V; (3)FREQ Pin: 100μA; (4)θJA (Note 2): 240℃/W; (5)TJmax (Note 2): 150℃; (6)Storage Temperature Range: -65℃ to +150℃; (7)Lead Temp. (Soldering, 5 sec): 260℃; (8)Power Dissipation (TA=25℃)(Note 2): 500mW; (9)ESD Rating (Note 3): 2kV.
Features
LM2621MM/NOPB features: (1)Small Mini-SO8 Package (Half the Footprint of Standard 8-PiSO Package); (2)1.09 mm Package Height; (3)Up to 2 MHz Switching Frequency; (4)1.2V to 14V Input Voltage; (5)1.24V - 14V Adjustable Output Voltage; (6)Up to 1A Load Current; (7)0.17 W Internal MOSFET; (8)Up to 90% Regulator Efficiency; (9)80 μA Typical Operating Current; (10)<2.5μA Guaranteed Supply Current In Shutdown.
Diagrams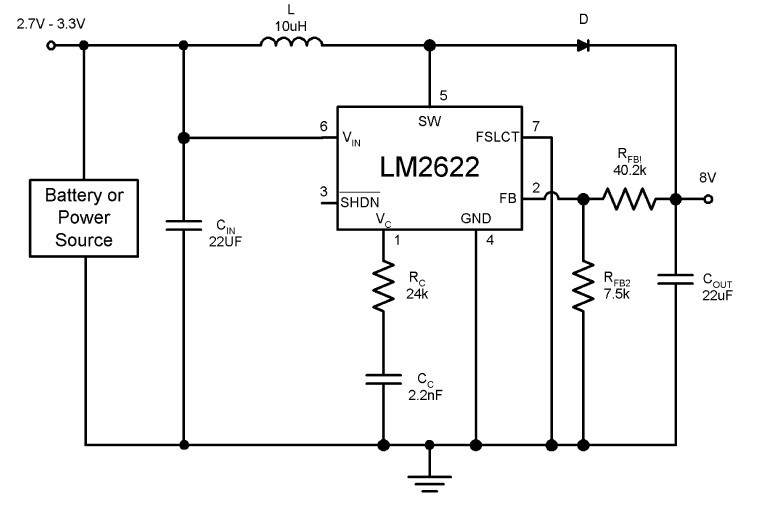 Image
Part No
Mfg
Description
Pricing
(USD)
Quantity

LM2621MM/NOPB

National Semiconductor (TI)

DC/DC Switching Controllers LOW INP VLTG,STEP-UP DC-DC

Data Sheet



| | |
| --- | --- |
| 0-1: | $1.15 |
| 1-25: | $0.93 |
| 25-100: | $0.84 |
| 100-250: | $0.74 |

Image
Part No
Mfg
Description
Pricing
(USD)
Quantity

LM26001EVAL

National Semiconductor (TI)

Power Management IC Development Tools EVAL BD FOR LM26001

Data Sheet



LM26001MXA/NOPB

National Semiconductor (TI)

Switching Converters, Regulators & Controllers

Data Sheet



| | |
| --- | --- |
| 0-1: | $3.85 |
| 1-25: | $3.16 |
| 25-100: | $2.85 |
| 100-250: | $2.62 |


LM26001QMXA/NOPB

National Semiconductor (TI)

Switching Converters, Regulators & Controllers

Data Sheet



| | |
| --- | --- |
| 0-1: | $4.07 |
| 1-25: | $3.33 |
| 25-100: | $3.01 |
| 100-250: | $2.77 |


LM2611BMF/NOPB

National Semiconductor (TI)

DC/DC Switching Controllers 1.4MHZ CUK CONVERTER

Data Sheet



| | |
| --- | --- |
| 0-1: | $2.08 |
| 1-25: | $1.60 |
| 25-100: | $1.45 |
| 100-250: | $1.30 |


LM2611AMF/NOPB

National Semiconductor (TI)

DC/DC Switching Controllers 1.4MHZ CUK CONVERTER

Data Sheet



| | |
| --- | --- |
| 0-1: | $1.89 |
| 1-25: | $1.54 |
| 25-100: | $1.39 |
| 100-250: | $1.26 |


LM2611AMFX/NOPB

National Semiconductor (TI)

DC/DC Switching Controllers

Data Sheet



| | |
| --- | --- |
| 0-2120: | $0.89 |
| 2120-2500: | $0.83 |
| 2500-3000: | $0.83 |
| 3000-5000: | $0.82 |