Product Summary
The ENC424J600-I/ML is a stand-alone, Fast Ethernet controller with an industry standard Serial Peripheral Interface (SPI) or a flexible parallel interface. The ENC424J600-I/ML is designed to serve as an Ethernet network interface for any microcontroller equipped with SPI or a standard parallel port.
Parametrics
ENC424J600-I/ML absolute maximum ratings: (1)Storage temperature: -65 to +150℃; (2)Ambient temperature under: -40 to +85℃ (Industrial); (3)Voltage on VDD, VDDOSC, VDDPLL, VDDRX and VDDTX, with respect to VSS: -0.3V to 4.0V; (4)Voltage on any digital pin, with respect to VSS: -0.3V to 6.0V; (5)Voltage on OSC1 and RBIAS analog pins, with respect to VSS: -0.3V to VDD + 0.3V; (6)Voltage on TPIN+/- and TPOUT+/-, with respect to VSS: -0.3V to 5.0V; (7)Voltage on VCAP, with respect to all VSS pins: -0.3V to 2.0V; (8)ESD protection on all pins: 2 kV; (9)Current sourced or sunk by any digital output pin: 25 mA; (10)Current out of all VSS pins: 420 mA; (11)Current into all VDD pins: 300 mA.
Features
ENC424J600-I/ML features: (1)Integrated MAC and 10/100Base-T PHY; (2)Hardware Security Acceleration Engines; (3)24-Kbyte Transmit/Receive Packet Buffer SRAM; (4)Supports one 10/100Base-T Port with Automatic Polarity Detection and Correction; (5)Supports Auto-Negotiation; (6)Support for Pause Control Frames, including Automatic Transmit and Receive Flow Control; (7)Supports Half and Full-Duplex Operation; (8)Programmable Automatic Retransmit on Collision; (9)Programmable Padding and CRC Generation; (10)Programmable Automatic Rejection of Erroneous and Runt Packets.
Diagrams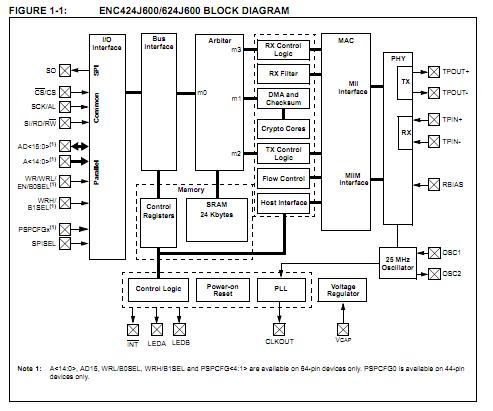 Image
Part No
Mfg
Description
Pricing
(USD)
Quantity

ENC424J600-I/ML

Microchip Technology

Ethernet ICs 10/100 Base-T Stand alone Ethernet Ctrlr

Data Sheet



| | |
| --- | --- |
| 0-1: | $2.82 |
| 1-10: | $2.26 |
| 10-25: | $2.07 |
| 25-100: | $1.87 |

Image
Part No
Mfg
Description
Pricing
(USD)
Quantity

ENC424J600-I/ML

Microchip Technology

Ethernet ICs 10/100 Base-T Stand alone Ethernet Ctrlr

Data Sheet



| | |
| --- | --- |
| 0-1: | $2.82 |
| 1-10: | $2.26 |
| 10-25: | $2.07 |
| 25-100: | $1.87 |


ENC424J600T-I/PT

Microchip Technology

Peripheral Drivers & Components (PCIs) 10/100 Base-T Stand alone Ethernet Ctrlr

Data Sheet



| | |
| --- | --- |
| 0-920: | $1.81 |
| 920-1200: | $1.81 |


ENC424J600T-I/ML

Microchip Technology

Ethernet ICs 10/100 Base-T Stand alone Ethernet Ctrlr

Data Sheet



| | |
| --- | --- |
| 0-1230: | $1.90 |
| 1230-1600: | $1.90 |


ENC424J600-I/PT

Microchip Technology

Peripheral Drivers & Components (PCIs) 10/100 Base-T Stand alone Ethernet Ctrlr

Data Sheet



| | |
| --- | --- |
| 0-1: | $2.69 |
| 1-10: | $2.15 |
| 10-25: | $1.97 |
| 25-100: | $1.79 |


ENC40000



GEM/LIBRA/LEGEND ENCLOSURE

Data Sheet