Product Summary
The DAC7744EC is a 16-bit Digital-to-Analog Converter (DAC) which provides 16 bits of monotonic performance over the specified operating temperature range and offers a +10V, low-drift internal reference. Designed for automatic test equipment and industrial process control applications, the DAC7744EC output swing can be configured in a ±10V, ±5V, or +10V range. The flexibility of the output configuration allows the DAC7744EC to provide both unipolar and bipolar operation by pin strapping. The DAC7741 includes a high-speed output amplifier with a maximum settling time of 5µs to ±0.003% FSR for a 20V full-scale change and only consumes 100mW (typical) of power. The applications of the DAC7744EC are (1)process control; (2)ate pin electronics; (3)closed-loop servo control; (4)motor control; (5)data acquisition systems.
Parametrics
DAC7744EC absolute maximum ratings: (1)VCC to VSS: –0.3V to +34V; (2)VCC to AGND: –0.3V to +17V; (3)VSS to AGND:–17V to +0.3V; (4)AGND to DGND: –0.3V to +0.3V; (5)REFIN to AGND: –9V to +11V; (6)VDD to DGND: 0V to VCC – 1.4V; (7)Digital Input Voltage to DGND: –0.3V to VDD + 0.3V; (8)Digital Output Voltage to DGND: –0.3V to VDD + 0.3V; (9)Operating Temperature Range: –40 to +85℃; (10)Storage Temperature Range:–65 to +150℃; (11)Junction Temperature: +150℃.
Features
DAC7744EC features: (1)low power: 150mW maximum; (2)+10V internal reference; (3)unipolar or bipolar operation; (4)settling time: 5μs to ±0.003% FSR; (5)16-bit monotonicity, –40 to +85℃; (6)±10V, ±5V or +10V configurable voltage output; (7)reset to min-scale or mid-scale; (8)double-buffered data input; (9)input register data readback; (10)small lqfp-48 package.
Diagrams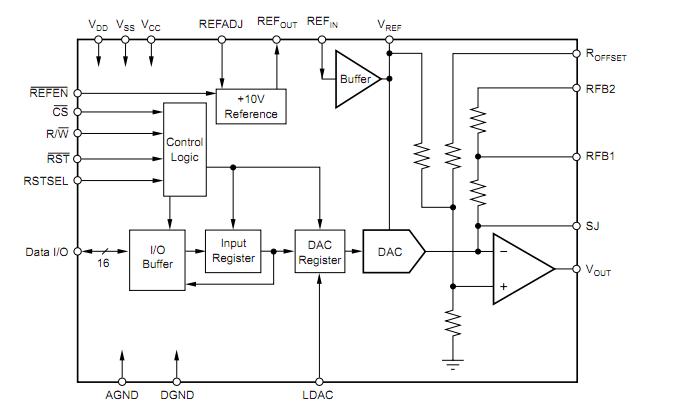 Image
Part No
Mfg
Description
Pricing
(USD)
Quantity

DAC7744EC

Texas Instruments

DAC (D/A Converters) 16-Bit Quad Voltage Output

Data Sheet



| | |
| --- | --- |
| 0-1: | $40.96 |
| 1-10: | $38.53 |
| 10-25: | $36.10 |
| 25-50: | $35.41 |


DAC7744EC/1K

Texas Instruments

DAC (D/A Converters) 16-Bit Quad Voltage Output

Data Sheet



| | |
| --- | --- |
| 0-786: | $29.30 |
| 786-1000: | $28.75 |


DAC7744ECG4

Texas Instruments

DAC (D/A Converters) 16-Bit Quad Voltage Output

Data Sheet



| | |
| --- | --- |
| 0-16: | $36.80 |
| 16-25: | $34.49 |
| 25-50: | $33.83 |
| 50-100: | $30.88 |


DAC7744EC/1KG4

Texas Instruments

DAC (D/A Converters) 16-Bit Quad Voltage Output

Data Sheet



| | |
| --- | --- |
| 0-786: | $27.92 |
| 786-1000: | $27.40 |