Product Summary
The AT91SAM7SE512-AU is a low pincount Flash microcontroller based on the 32-bit ARM RISC processor. It features a high-speed Flash and an SRAM, a large set of peripherals, including a USB 2.0 device , and a complete set of system functions minimizing the number of external components. The device is an ideal migration path for 8-bit microcontroller users looking for additional performance and extended memory. The AT91SAM7SE512-AU includes a reset controller capable of managing the power-on sequence of the microcontroller and the complete system. Correct device operation can be monitored by a built-in brownout detector and a watchdog running off an integrated RC oscillator.
Parametrics
AT91SAM7SE512-AU absolute maximum ratings: (1)Maximum Clock Frequency: 55 MHz; (2)Operating Supply Voltage: 1.8 V to 3.3 V; (3)Maximum working temperature: +85℃; (4)Minimum working temperature: -40℃.
Features
AT91SAM7SE512-AU features: (1)High-performance 32-bit RISC Architecture; (2)- High-density 16-bit Instruction Set; (3)- Leader in MIPS/Watt; (4)- EmbeddedICE. In-circuit Emulation, Debug Communication Channel Support; (5)Internal High-speed Flash; (6)Internal High-speed SRAM, Single-cycle Access at Maximum Speed; (7)Embedded Flash Controller, Abort Status and Misalignment Detection; (8)Windowed Watchdog; (9)One USB 2.0 Full Speed (12 Mbits per Second) Device Port; (10)Fully Static Operation: Up to 55 MHz at 1.65V and 85. C Worst Case Conditions.
Diagrams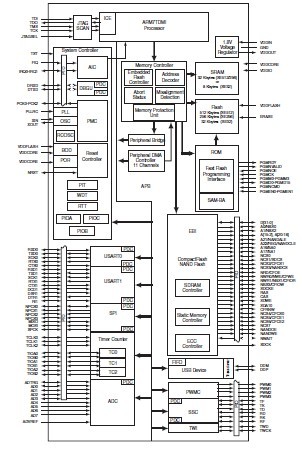 Image
Part No
Mfg
Description
Pricing
(USD)
Quantity

AT91SAM7SE512-AU

Atmel

ARM Microcontrollers (MCU) 512kB Flash 32kB SRAM 48MHz 4 PWM

Data Sheet



| | |
| --- | --- |
| 0-1: | $8.00 |
| 1-10: | $7.93 |
| 10-25: | $7.02 |
| 25-100: | $6.24 |


AT91SAM7SE512-AU-999

Atmel

ARM Microcontrollers (MCU) Ind. Temp Green

Data Sheet