Product Summary
The XTR116U is a precision current output converter designed to transmit analog 4-to-20mA signals over an industry standard current loop. It provides accurate current scaling and output current limit functions. The applications of the XTR116U include 2-wire, 4-20mA current loop transmitter, Smart transmitter, Industrial process control, Test systems, Compatible with hart modem, Current amplifier, Voltage-to-current amplifier.
Parametrics
XTR116U absolute maxing ratings: (1)Power Supply, V+ (referenced to IO pin): 40V; (2)Input Voltage (referenced to IRET pin): 0V to V+; (3)Output Current Limit: Continuous; (4)VREG, Short-Circuit: Continuous; (5)VREF, Short-Circuit: Continuous; (6)Operating Temperature: –55℃ to +125℃; (7)Storage Temperature Range: –55℃ to +125℃; (8)Lead Temperature (soldering, 10s): +300℃; (9)Junction Temperature: +165℃.
Features
XTR116U features: (1)Low quiescent current: 200μA; (2)5V regulator for external circuits; (3)VREF for sensor excitation: 4.096V; (4)Low span error: 0.05%; (5)Low nonlinearity error: 0.003%; (6)Wide loop supply range: 7.5V to 36V; (7)SO-8 package.
Diagrams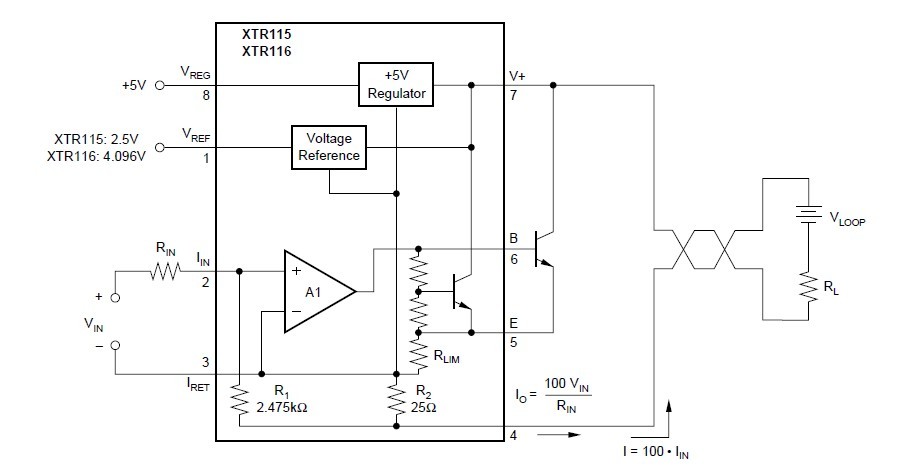 Image
Part No
Mfg
Description
Pricing
(USD)
Quantity

XTR116U

Texas Instruments

Current Sense Amplifiers 4-20mA Current Loop Transmitters

Data Sheet



| | |
| --- | --- |
| 0-1: | $2.02 |
| 1-10: | $1.82 |
| 10-25: | $1.62 |
| 25-50: | $1.52 |


XTR116U/2K5

Texas Instruments

Current Sense Amplifiers 4-20mA Current Loop Transmitters

Data Sheet



| | |
| --- | --- |
| 0-2010: | $0.88 |
| 2010-2500: | $0.88 |


XTR116UA

Texas Instruments

Current Sense Amplifiers 4-20mA Current Loop Transmitters

Data Sheet



| | |
| --- | --- |
| 0-1: | $1.69 |
| 1-10: | $1.51 |
| 10-25: | $1.35 |
| 25-50: | $1.27 |


XTR116UA/2K5

Texas Instruments

Current Sense Amplifiers 4-20mA Current Loop Transmitters

Data Sheet



| | |
| --- | --- |
| 0-2010: | $0.71 |
| 2010-2500: | $0.70 |


XTR116UA/2K5E4

Texas Instruments

Current Sense Amplifiers 4-20mA Current Loop Transmitters

Data Sheet



| | |
| --- | --- |
| 0-2010: | $0.71 |
| 2010-2500: | $0.70 |


XTR116U/2K5G4

Texas Instruments

Current Sense Amplifiers 4-20mA Current Loop Transmitters

Data Sheet



| | |
| --- | --- |
| 0-2010: | $0.88 |
| 2010-2500: | $0.88 |


XTR116UG4

Texas Instruments

Current Sense Amplifiers 4-20mA Current Loop Transmitters

Data Sheet



| | |
| --- | --- |
| 0-1: | $2.02 |
| 1-10: | $1.82 |
| 10-25: | $1.62 |
| 25-50: | $1.52 |


XTR116UAE4

Texas Instruments

Current Sense Amplifiers 4-20mA Current Loop Transmitters

Data Sheet



| | |
| --- | --- |
| 0-1: | $1.69 |
| 1-10: | $1.51 |
| 10-25: | $1.35 |
| 25-50: | $1.27 |