Product Summary
The XTR101AP is a microcircuit, 4-20mA, two-wire transmitter containing a high accuracy instrumentation amplifier (IA), a voltage-controlled output current source, and dual-matched precision current reference. This combination is ideally suited for remote signal conditioning of a wide variety of transducers such as thermocouples, RTDs, thermistors, and strain gauge bridges. State-of-the-art design and laser-trimming, wide temperature range operation and small size make XTR101AP very suitable for industrial process control applications. In addition, the optional external transistor allows even higher precision. The applications of the XTR101AP include industrial process control: pressure transmitters, temperature transmitters, millivolt transmitters, resistance bridge inputs, thermocouple inputs, rtd inputs, current shunt (mv) inputs, precision dual current sources, automated manufacturing and power/plant energy system monitoring.
Parametrics
XTR101AP absolute maximum ratings: (1)Power Supply, +VCC: 40V; (2)Storage Temperature Range, Ceramic: -55℃ to +165℃; Plastic: -55℃ to +125℃; (3)Lead Temperature (soldering 10s) G, P: +300℃; (wave soldering, 3s) U: +260℃; (4)Output Short-Circuit Duration: Continuous +VCC to IOUT; (5)Junction Temperature: +165℃.
Features
XTR101AP features: (1)Low Offset Voltage, 30mV max; (2)Low Voltage Drift, 0.75mV/℃ max; (3)Low Nonlinearity, 0.01% max; (4)dual matched current sources; (5)wide supply range: 11.6V to 40V; (6)–40℃ to +85℃ specification range; (7)small 14-pin dip package, ceramic and plastic.
Diagrams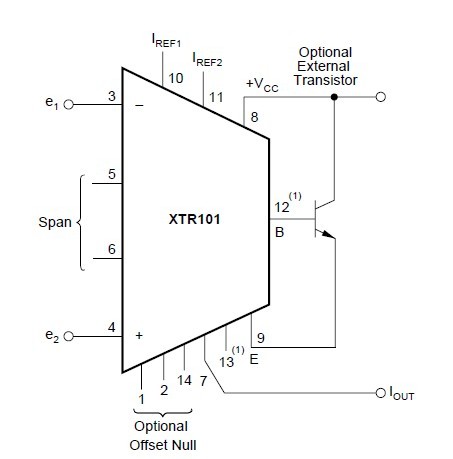 Image
Part No
Mfg
Description
Pricing
(USD)
Quantity

XTR101AP

Texas Instruments

Current Sense Amplifiers Prec Lo-Drift 4-20mA 2-Wire Trnsmtr

Data Sheet



| | |
| --- | --- |
| 0-1: | $10.32 |
| 1-10: | $9.40 |
| 10-25: | $8.68 |
| 25-50: | $8.39 |


XTR101APG4

Texas Instruments

Current Sense Amplifiers Prec Lo-Drift 4-20mA 2-Wire Trnsmtr

Data Sheet



| | |
| --- | --- |
| 0-1: | $10.32 |
| 1-10: | $9.40 |
| 10-25: | $8.68 |
| 25-50: | $8.39 |