Product Summary
The TPS54910PWP is a low-input voltage high-output current synchronous buck PWM converter integrates all required active components. Included on the substrate with the listed features are a true, high performance, voltage error amplifier that enables maximum performance under transient conditions and flexibility in choosing the output filter L and C components; an under-voltage-lockout circuit to prevent start-up until the input voltage reaches 3 V. The applications of the TPS54910PWP include Low-Voltage, High-Density Systems With Power Distributed at 3.3 V, Point of Load Regulation for High Performance DSPs, FPGAs, ASICs and Microprocessors, Broadband, Networking and Optical Communications Infrastructure, Portable Computing/Notebook PCs.
Parametrics
TPS54910PWP absolute maximum ratings: (1)Input voltage range, VI: VIN, SS/ENA, SYNC: -0.3 V to 7 V; RT: -0.3 V to 6V; VSENSE: -0.3 V to 4V; BOOT: -0.3 V to 4 V; (2)Output voltage range, VO, VBIAS, COMP, PWRGD: -0.3 V to 4.5V; PH: -0.6 V to 10 V; (3)Source current, IO: PH Internally Limited; COMP, VBIAS: 6 mA; (4)Sink current, IS: PH: 16 A; COMP: 6mA; SS/ENA, PWRGD: 10mA; (5)Voltage differential AGND to PGND: ±0.3 V; (6)Operating virtual junction temperature range, TJ: -40 to 125 ℃; (7)Storage temperature, Tstg: -65 to 150 ℃; (8)Lead temperature 1,6 mm (1/16 inch) from case for 10 seconds: 300 ℃.
Features
TPS54910PWP features: (1)15-mΩ MOSFET Switches for High Efficiency at 9-A Continuous Output; (2)0.9-V to 2.5-V Adjustable Output Voltage; (3)Externally Compensated With 1% Accuracy; (4)Fast Transient Response; (5)Wide PWM Frequency: Fixed 350 kHz, 550 kHz or Adjustable 280 kHz to 700 kHz; (6)Load Protected by Peak Current Limit and Thermal Shutdown; (7)Integrated Solution Reduces Board Area and Total Cost.
Diagrams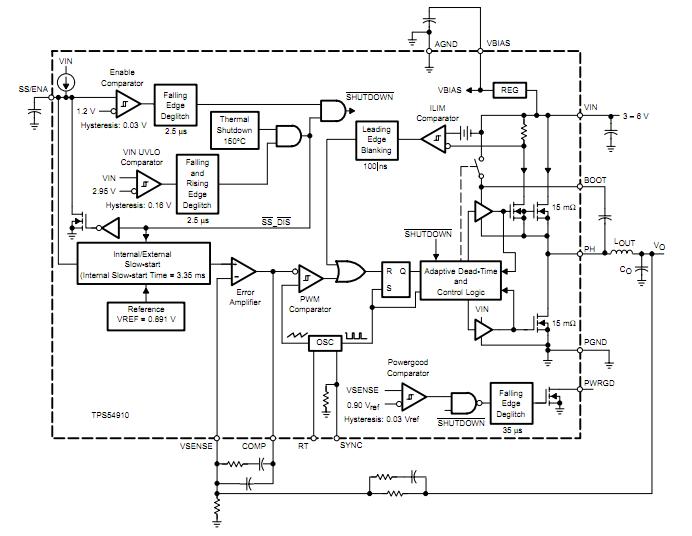 Image
Part No
Mfg
Description
Pricing
(USD)
Quantity

TPS54910PWPRG4

Texas Instruments

DC/DC Switching Regulators 3.3V Inp 9A Sync Buck Converter

Data Sheet



| | |
| --- | --- |
| 0-1600: | $2.74 |
| 1600-2000: | $2.72 |


TPS54910PWPR

Texas Instruments

DC/DC Switching Regulators 3.3V Inp 9A Sync Buck Converter

Data Sheet



| | |
| --- | --- |
| 0-1600: | $2.74 |
| 1600-2000: | $2.72 |


TPS54910PWPG4

Texas Instruments

DC/DC Switching Regulators 3.3V Inp 9A Sync Buck Converter

Data Sheet



| | |
| --- | --- |
| 0-1: | $5.80 |
| 1-25: | $4.75 |
| 25-100: | $3.67 |
| 100-250: | $3.43 |


TPS54910PWP

Texas Instruments

DC/DC Switching Regulators 3.3V Inp 9A Sync Buck Converter

Data Sheet



| | |
| --- | --- |
| 0-1: | $5.81 |
| 1-25: | $4.75 |
| 25-100: | $3.67 |
| 100-250: | $3.43 |