Product Summary
The TLC3548IDW is a 14-bit resolution high-performance, low-power, CMOS analog-to-digital converter (ADC). It operates from a single 5-V analog power supply and 3-V to 5-V digital supply. The TLC3548IDW consists of four digital inputs [chip select (CS), frame sync (FS), serial input-output clock (SCLK), serial data input (SDI)], and a 3-state serial data output (SDO). CS (works as SS, slave select), SDI, SDO, and SCLK form an SPI interface. FS, SDI, SDO, and SCLK form a DSP interface. The frame sync signal (FS) indicates the start of a serial data frame being transferred.
Parametrics
TLC3548IDW absolute maximum ratings: (1)Supply voltage, GND to AVDD, DVDD: -0.3 V to 6.5 V; (2)Analog input voltage range: –0.2 V to AVDD +0.2 V; (3)Analog input current: 100 mA MAX; (4)Reference input voltage: AVDD + 0.3 V; (5)Digital input voltage range:–0.3 V to DVDD + 0.3 V; (6)Operating virtual junction temperature range, TJ:–40 to 150℃; (7)Operating free-air industrial temperature range, TA:–40℃ to 85℃; (8)Storage temperature range, Tstg: –65 to 150℃; (9)Lead temperature 1,6 mm (1.16 inch) from case for 10 seconds: 260℃.
Features
TLC3548IDW features: (1)14-Bit Resolution; (2)Maximum Throughput 200 KSPS; (3)Analog Input Range 0-V to Reference Voltage; (4)Multiple Analog Inputs: 8 Channels; (5)Pseudodifferential Analog Inputs; (6)SPI/DSP-Compatible Serial Interfaces With SCLK up to 25 MHz; (7)Single 5-V Analog Supply; 3-/5-V Digital Supply; (8)Low Power: 4 mA (Internal Reference: 1.8 mA) for Normal Operation: 20 μA in Autopower-Down; (9)Built-In 4-V Reference, Conversion Clock and 8x FIFO; (10)Hardware-Controlled and Programmable Sampling Period; (11)Programmable Autochannel Sweep and Repeat; (12)Hardware Default Configuration; (13)INL: ±1 LSB Max; (14)DNL: ±1 LSB Max; (15)SINAD: 80.8 dB; (16)THD: –95 dB.
Diagrams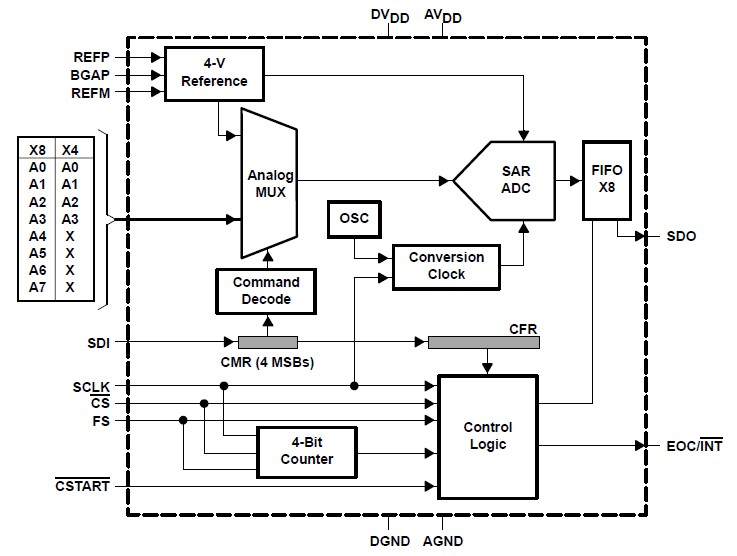 Image
Part No
Mfg
Description
Pricing
(USD)
Quantity

TLC3548IDW

Texas Instruments

ADC (A/D Converters) 14-bit 5V 200KSPS 8-Channel Unipolar

Data Sheet



| | |
| --- | --- |
| 0-1: | $9.79 |
| 1-10: | $8.91 |
| 10-25: | $8.23 |
| 25-50: | $7.95 |


TLC3548IDWG4

Texas Instruments

ADC (A/D Converters) 14-bit 5V 200KSPS 8-Channel Unipolar

Data Sheet



| | |
| --- | --- |
| 0-1: | $9.79 |
| 1-10: | $8.91 |
| 10-25: | $8.23 |
| 25-50: | $7.95 |


TLC3548IDWRG4

Texas Instruments

ADC (A/D Converters) 14-bit 5V 200KSPS 8-Channel Unipolar

Data Sheet



| | |
| --- | --- |
| 0-1602: | $4.62 |
| 1602-2000: | $4.62 |


TLC3548IDWR

Texas Instruments

ADC (A/D Converters) 14-bit 5V 200KSPS 8-Channel Unipolar

Data Sheet



| | |
| --- | --- |
| 0-1602: | $4.62 |
| 1602-2000: | $4.62 |