Product Summary
The THS1207IDA is a CMOS, low-power, 12-bit, 6 MSPS analog-to-digital converter (ADC). The speed, resolution, bandwidth, and single-supply operation are suited for applications in radar, imaging, high-speed acquisition, and communications. A multistage pipelined architecture with output error correction logic provides for no missing codes over the full operating temperature range. Internal control registers are used to program the ADC into the desired mode. The applications of the THS1207IDA include Radar Applications, Communications, Control Applications, High-Speed DSP Front-End, Automotive Applications.
Parametrics
THS1207IDA absolute maximum ratings: (1)DGND to DVDD: –0.3 V to 6.5 V; (2)Supply voltage range BGND to BVDD: –0.3 V to 6.5 V; (3)AGND to AVDD: –0.3 V to 6.5 V; (4)Analog input voltage range AGND: –0.3 V to AVDD + 1.5 V; (5)Reference input voltage: –0.3 V + AGND to AVDD + 0.3 V; (6)Digital input voltage range: –0.3 V to BVDD/DVDD + 0.3 V; (7)Operating virtual junction temperature range, TJ: –40 to 150℃; (8)Operating free air temperature range: –40 to 85℃; (9)Storage temperature range, Tstg: –65 to 150℃; (10)Lead temperature 1,6 mm (1/16 inch) from case for 10 seconds: 260℃.
Features
THS1207IDA features: (1)Simultaneous Sampling of 4 Single-Ended Signals or 2 Differential Signals or Combination of Both; (2)Signal-to-Noise and Distortion Ratio: 68 dB at fI = 2 MHz; (3)Differential Nonlinearity Error: ±1 LSB; (4)Integral Nonlinearity Error: ±1.5 LSB; (5)Auto-Scan Mode for 2, 3, or 4 Inputs; (6)3-V or 5-V Digital Interface Compatible; (7)Low Power: 216mW Max at 5 V; (8)Power Down: 1mW Max; (9)5-V Analog Single Supply Operation; (10)Internal Voltage References: 50 PPM/℃ and ±5% Accuracy; (11)Glueless DSP Interface; (12)Parallel μC/DSP Interface.
Diagrams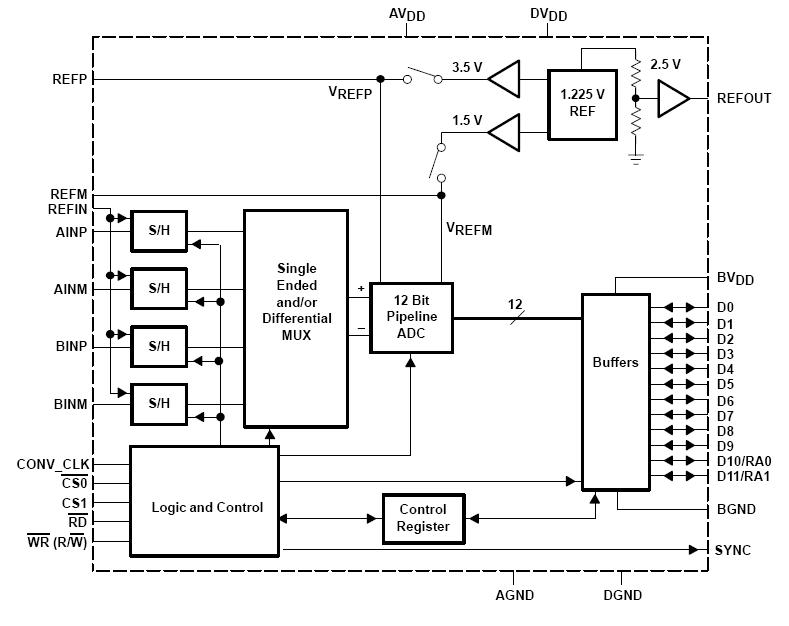 Image
Part No
Mfg
Description
Pricing
(USD)
Quantity

THS1207IDA

Texas Instruments

ADC (A/D Converters) 12-Bit 6MSPS Simult Sampling Quad Ch

Data Sheet



| | |
| --- | --- |
| 0-1: | $12.76 |
| 1-10: | $11.61 |
| 10-25: | $10.73 |
| 25-50: | $10.36 |


THS1207IDAG4

Texas Instruments

ADC (A/D Converters) 12-Bit 6MSPS Simult Sampling Quad Ch

Data Sheet



| | |
| --- | --- |
| 0-1: | $12.76 |
| 1-10: | $11.61 |
| 10-25: | $10.73 |
| 25-50: | $10.36 |