Product Summary
The OPA129UB is an ultra-low bias current monolithic operational amplifier offered in an 8-pin PDIP and SO-8 package. Using advanced geometry dielectrically-isolated FET inputs, this monolithic amplifier OPA129UB achieves a high performance level.
Parametrics
OPA129UB absolute maximum ratings: (1)Power Supply Voltage: ±18V; (2)Differential Input Voltage: V– to V+; (3)Input Voltage Range: V– to V+; (4)Storage Temperature Range: –40℃ to +125℃; (5)Operating Temperature Range: –40℃ to +125℃; (6)Lead Temperature (soldering, 10s; SOIC 3s): +300℃; (7)Output Short Circuit Duration: Continuous; (8)Junction Temperature (TJ): +150℃.
Features
OPA129UB features: (1)ultra-low bias current: 100fA max; (2)low offset: 2mV max; (3)low drift: 10μV/℃ max; (4)high open-loop gain: 94dB min; (5)low noise: 15nV/√Hz at 10kHz; (6)plastic DIP and SOIC package.
Diagrams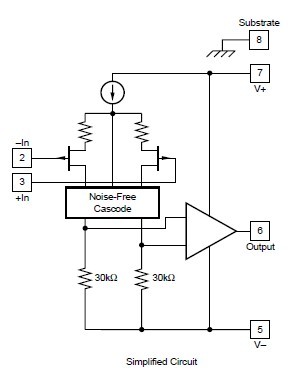 Image
Part No
Mfg
Description
Pricing
(USD)
Quantity

OPA129UB

Texas Instruments

Operational Amplifiers - Op Amps Ultra-Low Bias Current Difet

Data Sheet



| | |
| --- | --- |
| 0-1: | $7.24 |
| 1-10: | $6.59 |
| 10-25: | $6.08 |
| 25-50: | $5.88 |


OPA129UB/2K5

Texas Instruments

Operational Amplifiers - Op Amps Ultra-Low Bias Current Difet

Data Sheet



| | |
| --- | --- |
| 0-2001: | $3.68 |
| 2001-2500: | $3.68 |


OPA129UB/2K5E4

Texas Instruments

Operational Amplifiers - Op Amps Ultra-Low Bias Current Difet

Data Sheet



| | |
| --- | --- |
| 0-2001: | $3.68 |
| 2001-2500: | $3.68 |


OPA129UBE4

Texas Instruments

Operational Amplifiers - Op Amps Ultra-Low Bias Current Difet

Data Sheet



| | |
| --- | --- |
| 0-1: | $7.24 |
| 1-10: | $6.59 |
| 10-25: | $6.08 |
| 25-50: | $5.88 |


OPA129UBG4

Texas Instruments

Operational Amplifiers - Op Amps Ultra-Low Bias Current Difet

Data Sheet



| | |
| --- | --- |
| 0-1: | $7.24 |
| 1-10: | $6.59 |
| 10-25: | $6.08 |
| 25-50: | $5.88 |