Product Summary
The MPC8250ACVVMHBC is a communications processor. It is available in two packages: the standard ZU package (480 TBGA) and an alternate VR package (516 PBGA).
Parametrics
MPC8250ACVVMHBC absolute maximum ratings: (1)Core supply voltage:-0.3V to 2.5V; (2)PLL supply voltage:-0.3V to 2.5V; (3)I/O supply voltage:-0.3V to 4.0V; (4)Input voltage:GND(-0.3)V to 3.6V; (5)Junction temperature:120℃; (6)Storage temperature rang:-55℃ to +150℃.
Features
MPC8250ACVVMHBC features: (1)Footprint-compatible with the MPC8260; (2)Dual-issue integer core; (3)A core version of the EC603e microprocessor; (4)System core microprocessor supporting frequencies of 150MHz to 200MHz; (5)PowerPC architecture-compliant memory management unit (MMU); (6)Common on-chip processor (COP) test interface; (7)High-performance (4.4–5.1 SPEC95 benchmark at 200 MHz; 280 Dhrystones MIPS at 200 MHz); (8)Supports bus snooping for data cache coherency; (9)Floating-point unit (FPU); (10)Separate power supply for internal logic (1.8 V) and for I/O(3.3V) ; (11)Separate PLLs for G2 core and for the CPM; (12)Bus supports multiple master designs; (13)Supports single- and four-beat burst transfers ; (14)64-, 32-, 16-, and 8-bit port sizes controlled by on-chip memory controller; (15)Supports data parity or ECC and address parity; (16)Programmable host bridge and agent; (17)32-bit data bus, 66 MHz, 3.3 V; (18)Synchronous and asynchronous 60x and PCI clock modes; (19)All internal address space available to external PCI host; (20)DMA for memory block transfers; (21)PCI-to-60x address remapping; (22)Clock synthesizer; (23)Reset controller; (24)Real-time clock (RTC) register; (25)Periodic interrupt timer; (26)Hardware bus monitor and software watchdog timer; (27)IEEE 1149.1 JTAG test access port; (28)Interfaces to G2 core through on-chip 32-Kbyte dual-port RAM and DMA controller; (29)Serial DMA channels for receive and transmit on all serial channels; (30)Parallel I/O registers with open-drain and interrupt capability; (31)Virtual DMA functionality executing memory-to-memory and memory-to-I/O transfers.
Diagrams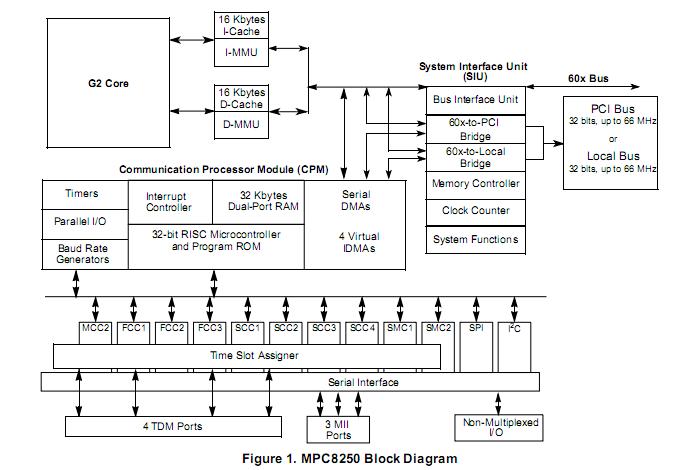 Image
Part No
Mfg
Description
Pricing
(USD)
Quantity

MPC8250ACVVMHBC

Freescale Semiconductor

Microprocessors (MPU) PQ 2 HIP4 REV-C NO-PB

Data Sheet



| | |
| --- | --- |
| 0-9: | $82.12 |
| 9-10: | $77.47 |
| 10-25: | $73.08 |
| 25-100: | $45.68 |

Image
Part No
Mfg
Description
Pricing
(USD)
Quantity

MPC8248VRMIBA

Freescale Semiconductor

Microprocessors (MPU) 266 MHz 505.4 MIPS

Data Sheet



| | |
| --- | --- |
| 0-17: | $24.00 |
| 17-25: | $22.64 |
| 25-100: | $14.15 |


MPC8248VRTIEA

Freescale Semiconductor

Microprocessors (MPU) 400 MHz 760 MIPS

Data Sheet



| | |
| --- | --- |
| 0-17: | $32.54 |
| 17-25: | $30.70 |
| 25-100: | $19.19 |


MPC8250ACVVMHBC

Freescale Semiconductor

Microprocessors (MPU) PQ 2 HIP4 REV-C NO-PB

Data Sheet



| | |
| --- | --- |
| 0-9: | $82.12 |
| 9-10: | $77.47 |
| 10-25: | $73.08 |
| 25-100: | $45.68 |


MPC8260ADS-TCOM

Freescale Semiconductor

Daughter Cards & OEM Boards PQII ADS BRD

Data Sheet

Negotiable

MPC8260ADS-FLASH

Freescale Semiconductor

Development Boards & Kits - Other Processors FLASH CHIP FOR 8260ADS

Data Sheet

Negotiable

MPC8270VVUPEA

Freescale Semiconductor

Microprocessors (MPU) 450 MHz 885 MIPS

Data Sheet



| | |
| --- | --- |
| 0-1: | $55.64 |
| 1-25: | $51.52 |
| 25-50: | $49.46 |
| 50-100: | $40.06 |