Product Summary
The XTR106P is a low cost, monolithic 4-20mA, two-wire current transmitter designed for bridge sensors. Itprovides complete bridge excitation (2.5V or 5V refer-ence), instrumentation amplifier, sensor linearization,and current output circuitry. Current for powering additional external input circuitry is available from the VREG pin. The applications of the XTR106P include pressure bridge transmitter, strain gage transmitter, temperature bridge transmitter, industrial process control, scada remote data acquisition, remote transducers, weighing systems, accelerometers.
Parametrics
XTR106P absolute maximum ratings: (1)Power Supply, V+ (referenced to IO pin): 40; (2)VInput Voltage, VIN, VIN (referenced to IRET pin): 0V to V+; (3)Storage Temperature Range: -55℃ to +125℃; (4)Lead Temperature (soldering, 10s): +300℃; (5)Output Current Limit: Continuous; (6)Junction Temperature: +165℃.
Features
XTR106P features: (1)low total unadjusted error; (2)2.5v, 5v bridge excitation reference; (3)5.1v regulator output; (4)low span drift:±25ppm/℃ max; (5)low offset drift: 0.25μv/℃; (6)high psr: 110db min; (7)high cmr: 86db min; (8)wide supply range: 7.5v to 36v; (9)14-pin dip and so-14 surface-mount.
Diagrams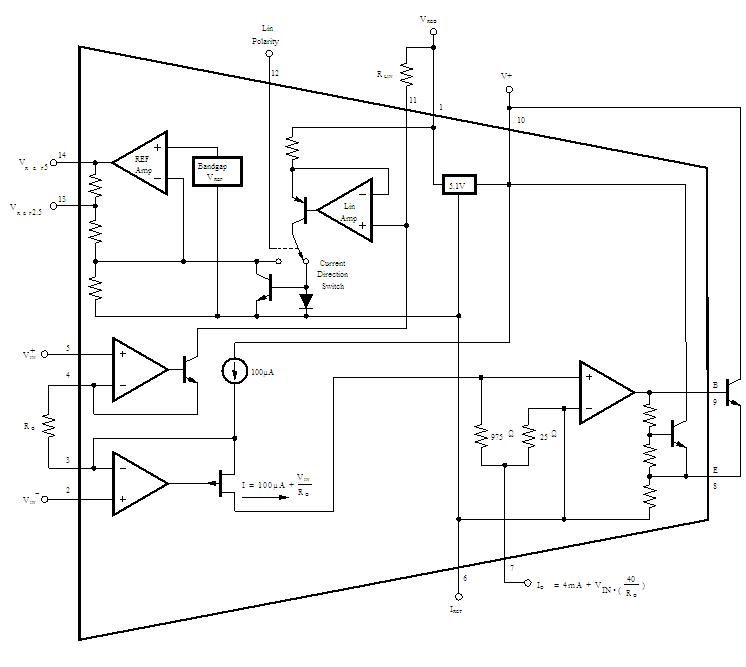 Image
Part No
Mfg
Description
Pricing
(USD)
Quantity

XTR106P

Texas Instruments

Current Sense Amplifiers 4-20mA Crnt Trnsmtr w/Bridger Exc & Lin

Data Sheet



| | |
| --- | --- |
| 0-1: | $6.64 |
| 1-10: | $6.05 |
| 10-25: | $5.59 |
| 25-50: | $5.40 |


XTR106PA

Texas Instruments

Current Sense Amplifiers 4-20mA Crnt Trnsmtr w/Bridger Exc & Lin

Data Sheet



| | |
| --- | --- |
| 0-1: | $5.40 |
| 1-10: | $4.85 |
| 10-25: | $4.32 |
| 25-50: | $4.07 |


XTR106PG4

Texas Instruments

Current Sense Amplifiers 4-20mA Crnt Trnsmtr w/Bridger Exc & Lin

Data Sheet



| | |
| --- | --- |
| 0-1: | $6.64 |
| 1-10: | $6.05 |
| 10-25: | $5.59 |
| 25-50: | $5.40 |


XTR106PAG4

Texas Instruments

Current Sense Amplifiers 4-20mA Crnt Trnsmtr w/Bridger Exc & Lin

Data Sheet



| | |
| --- | --- |
| 0-1: | $5.40 |
| 1-10: | $4.85 |
| 10-25: | $4.32 |
| 25-50: | $4.07 |