Product Summary
The PTH05030WAS is a high current non-isolated power module from Texas Instruments. The PTH05030WAH is characterized by high efficiencies, and up to 30 A of output current, while occupying a mere 1.64 in2 of PCB area. In terms of cost, size, and performance, the series provides OEM's with a flexible module that meets the requirements of the most complex and demanding mixed signal applications. The PTH05030WAS includes the most densly populated, multi-processor systems that incorporate high-speed DSP's, microprocessors, and ASICs.
Parametrics
PTH05030WAS absolute maximum ratings: (1)Track Input Voltage Vtrack: -0.3 to Vin + 0.3 V; (2)Operating Temperature Range Ta Over Vin Range: -40 to 85℃; (3)Solder Reflow Temperature Treflow Surface temperature of module body or pins: 235℃; (4)Storage Temperature Ts: -40 to 125℃; (5)Mechanical Shock: 500 G's; (6)Mechanical Vibration: 10 G's; (7)Weight: 10grams.
Features
PTH05030WAS features: (1)Up to 30 A Output Current; (2)5-V Input Voltage; (3)Wide-Output Voltage Adjust (0.8 V to 3.6 V); (4)180 W/in3 Power Density; (5)On/Off Inhibit; (6)Efficiencies up to 94 %; (7)Pre-Bias Startup; (8)Margin Up/Down Controls; (9)Under-Voltage Lockout; (10)Auto-Track Sequencing; (11)Output Over-Current Protection (Non-Latching, Auto-Reset); (12)Over-Temperature Protection; (13)Operating Temp: -40 to +85℃; (14)Safety Agency Approvals: UL 1950, CSA 22.2 950, EN60950 VDE (Pending); (15)Point-of-Load Alliance (POLA) Compatible.
Diagrams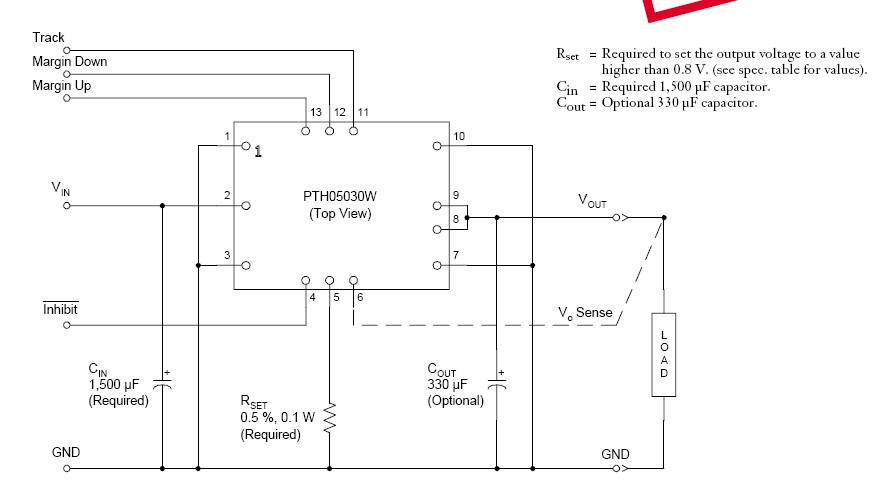 Image
Part No
Mfg
Description
Pricing
(USD)
Quantity

PTH05030WAS

Texas Instruments

DC/DC Converters 30A 5V-In Wide-Out Adj Plug-in Pwr Mdl

Data Sheet



| | |
| --- | --- |
| 0-20: | $14.69 |
| 20-25: | $13.76 |
| 25-50: | $13.50 |
| 50-100: | $12.32 |


PTH05030WAST

Emerson / Astec Power

DC/DC Converters 4.5-5.5Vin 0.8-3.6V 30A

Data Sheet



| | |
| --- | --- |
| 0-80: | $21.53 |
| 80-100: | $17.77 |
| 100-125: | $17.77 |