Product Summary
The LMP7731MFX/NOPB is a single, low offset voltage, rail-to-rail input and output precision amplifier with a CMOS input stage and a wide supply voltage range. It is part of the LMP. precision amplifier family and is ideal for sensor interface and other instrumentation applications. The LMP7731MFX/NOPB is built utilizing VIP50 technology, which allows the combination of a CMOS input stage and a 12V common mode and supply voltage range. This makes it a great choice in many applications where conventional CMOS parts cannot operate under the desired voltage conditions. The LMP7731MFX/NOPB has a rail-to-rail input stage that significantly reduces the CMRR glitch commonly associated with rail-torail input amplifiers. This is achieved by trimming both sides of the complimentary input stage, thereby reducing the difference between the NMOS and PMOS offsets. The output of the LMP7731MFX/NOPB swings within 40 mV of either rail to maximize the signal dynamic range in applications requiring low supply voltage. It is offered in space saving SOT23-5.
Parametrics
LMP7731MFX/NOPB absolute maximum ratings: (1)ESD Tolerance, Human Body Model: 2 kV; Machine Model: 200V; (2)VIN Differential: ±300 mV; (3)Supply Voltage (VS = V+ – V-): 13.2V; (4)Voltage at Input/Output Pins: V++ 0.3V, V- - 0.3V; (5)Input Current: 10 mA; (6)Storage Temperature Range: -65℃ to +150℃; (7)Junction Temperature: +150℃; (8)Infrared or Convection (20 sec): 235℃; (9)Wave Soldering Lead Temp. (10sec): 260℃.
Features
LMP7731MFX/NOPB features: (1)Input offset voltage: ±200 μV (max); (2)Input bias current: 300 fA; (3)Input voltage noise: 12 nV/; (4)CMRR: 100 dB; (5)Open loop gain: 130 dB; (6)Temperature range: –40 to 125℃; (7)Unity gain bandwidth: 2.5 MHz; (8)Supply current: 715 μA; (9)Supply Voltage Range: 2.7V to 12V.
Diagrams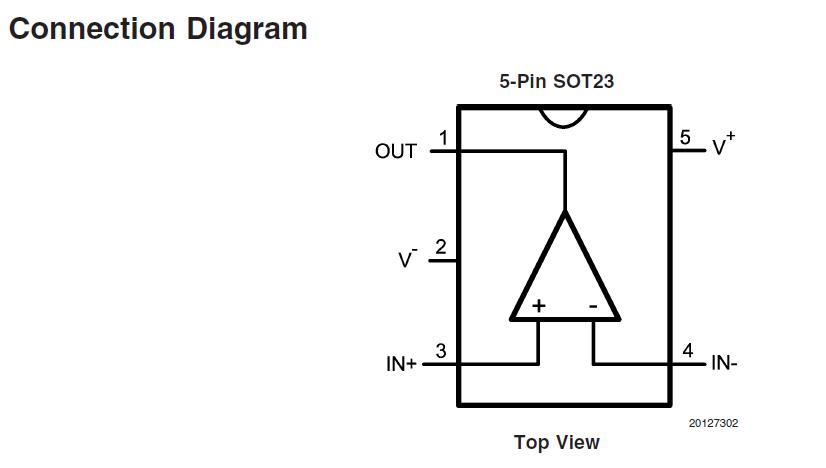 Image
Part No
Mfg
Description
Pricing
(USD)
Quantity

LMP7731MFX/NOPB

National Semiconductor (TI)

Operational Amplifiers - Op Amps

Data Sheet



| | |
| --- | --- |
| 0-2410: | $0.71 |
| 2410-3000: | $0.70 |

Image
Part No
Mfg
Description
Pricing
(USD)
Quantity

LMP7701MF/NOPB

National Semiconductor (TI)

Operational Amplifiers - Op Amps 12V PREC CMOS OP AMP

Data Sheet



| | |
| --- | --- |
| 0-1: | $1.27 |
| 1-10: | $1.14 |
| 10-25: | $1.01 |
| 25-100: | $0.68 |


LMP7704MA/NOPB

National Semiconductor (TI)

Operational Amplifiers - Op Amps Prec RRIO 12V Quad Op Amp

Data Sheet



| | |
| --- | --- |
| 0-1: | $2.79 |
| 1-25: | $2.24 |
| 25-100: | $2.04 |
| 100-250: | $1.84 |


LMP7702MM/NOPB

National Semiconductor (TI)

Operational Amplifiers - Op Amps Prec RRIO 12V Dual Op Amp

Data Sheet



| | |
| --- | --- |
| 0-1: | $1.67 |
| 1-10: | $1.50 |
| 10-25: | $1.34 |
| 25-50: | $1.26 |


LMP7702MA/NOPB

National Semiconductor (TI)

Operational Amplifiers - Op Amps PREC CMOS INPT RRIO WD SUP RNG DECMP AMP

Data Sheet



| | |
| --- | --- |
| 0-1: | $1.67 |
| 1-10: | $1.50 |
| 10-25: | $1.34 |
| 25-50: | $1.26 |


LMP7707MFX/NOPB

National Semiconductor (TI)

Operational Amplifiers - Op Amps

Data Sheet



| | |
| --- | --- |
| 0-2410: | $0.72 |
| 2410-3000: | $0.71 |


LMP7717MAE/NOPB

National Semiconductor (TI)

Operational Amplifiers - Op Amps

Data Sheet



| | |
| --- | --- |
| 0-1: | $1.08 |
| 1-10: | $0.97 |
| 10-25: | $0.86 |
| 25-100: | $0.58 |
| 100-250: | $0.57 |